Curtains
Book by Rupert Holmes, original book and concept by Peter Stone, music by John Kander and lyrics by Fred Ebb
Dan Looney, Adam Paulden and Jason Haigh-Ellery for DLAP Entertainment, Sally Horchow, Roger Horchow
Sheffield Lyceum
–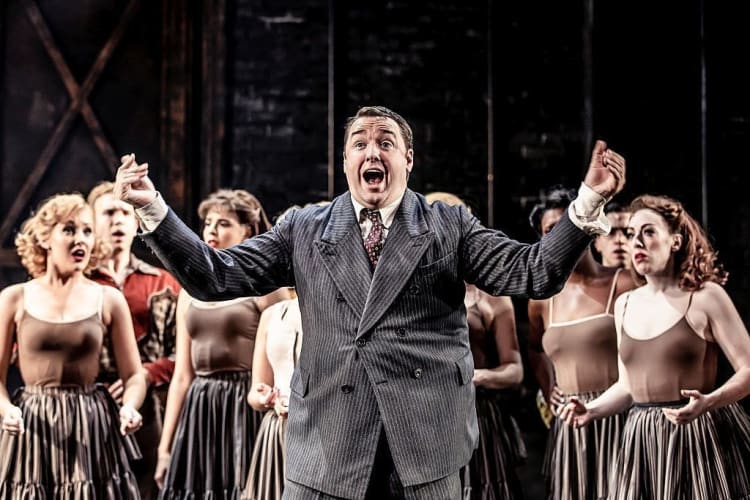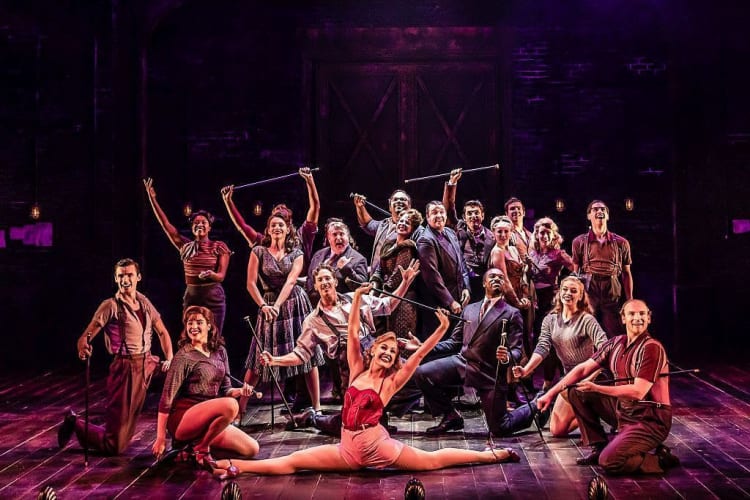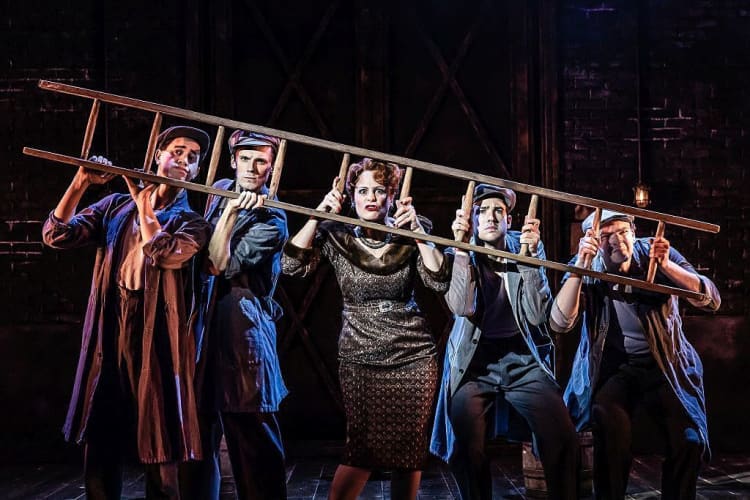 Curtains is a whodunnit wrapped up in a company musical. While the slight thread that binds the whole together is a murder during the rehearsal of Robin Hood which we see little of, the action is much more concerned with the life, loves and ambitions of the participating company and provides opportunities for set piece ensembles drawn from earlier musicals, notably Oklahoma.
The musical writing partnership of John Kander and Fred Ebb dates back to 1962 and has the distinction of being "the longest-running music-and-lyrics partnership in Broadway musical history". Their distinguished output includes Cabaret and Chicago and the richness of the orchestration, its rhythmic energy and the effectiveness of the lyrics can been seen in the current production.
Detective Frank Cioffi, sympathetically played by Jason Manford, is called in to investigate the murder and becomes a pivotal figure in the action when he reveals his passionate interest in musical theatre and his enthusiasm for the current company. He is as committed to encouraging the company to keep going after adverse reviews as he is to solving the mystery.
The key characters in the company are gradually revealed. Rebecca Lock is strong and acerbic as Carmen Bernstein, wife of an unpleasant, gangster-like entrepreneur (Mark Sangster) who would be happy to see the show close down. As the sharp-tongued, cynical director of the show, Samuel Holmes adds a bite which is reminiscent of the Emcee in Cabaret.
Carley Stenson and Ore Oduba are initially the Kander and Ebb of the production whose close creative relationship is on the point of breakdown when Stenson as Georgia Hendricks takes over the leading female role in the production and seems to be falling in love with leading man Bobby Pepper (Alan Burkitt).
Leah West as Niki Harris provides further love interest as her relationship with Cioffi develops, sensitive performances by both actors, and Emma Caffrey as Carmen's talented and ambitious daughter displays, along with Alan Burkitt, impressive gymnastic and balletic skills.
This is a touring show with very high production values. Alistair David's choreography is dynamic and exciting and he has an eye for elegantly presented end of routine tableaux. The singing and dancing by the principals and the energetic chorus is highly accomplished and foot-tappingly good and the music (Alex Beetschen as musical director) is rich in tone and a satisfying accompaniment to the action.
Cornelia Slade's costumes employ variation of colour tone interestingly and are easy to move in. As set designer, David Woodhead provides a versatile and adaptable space for the rehearsal sequences and excels himself in set pieces like the final "In the Same Boat" sequence where chorus members appear to be swimming in the sea.
Although the narrative line is complicated and there are a lot of different characters to identify, the show moves forward at a rapid pace, there are moments of plangency as well as vigorous or comic action and the energy of the whole production is impressive.
Reviewer: Velda Harris