Curtains
Book by Robert Holmes, music by John Kander, lyrics by Fred Ebb, original book and concept by Peter Stone, additional lyrics by John Kander and Rupert Holmes
Theatrica Ltd
The Landor Theatre, London
–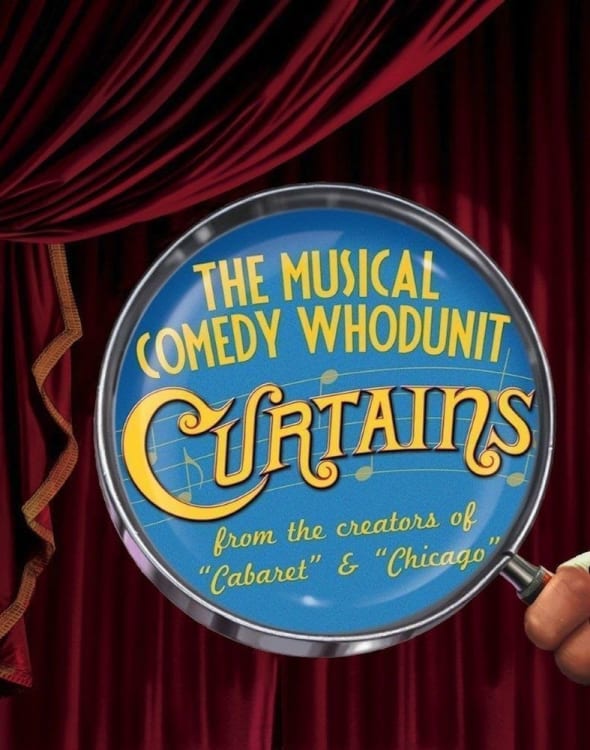 Genuine musical comedies are few and far between on the London stage at the moment.
Curtains, which features music by Kander and Ebb (Cabaret, Chicago) won David Matthew Pierce—famous for the TV programme Frasier—a Tony award for best leading actor in a musical in 2007, and now makes its London premiere at the Landor Theatre in Clapham. This really is a true musical comedy and it is executed well by the surprisingly large (for the small 60 seat studio space) cast of 19, directed by Robert McWhir, artistic director of the Landor.
The strap line is "the musical comedy whodunit"—and this show does exactly what it says on the programme. It is 1959 at the Colonial Theatre, Boston and a cast of talented Broadway performers are struggling through Robbin' Hood, a definite flop in the making, led by the distinctly un-talented character of Jessica Cranshaw, a child movie-star now attempting to tread the boards (Stephanie Parker).
All is going pretty badly for the cast of Robbin' Hood when things get worse. Jessica collapses onstage and hours later is announced dead, much to the delight of everyone in the cast and creative team who all attempt to get on the first train back to New York like rats abandoning a sinking ship. They are stopped in their tracks by Lieutenant Frank Cioffi (Jeremy Legat); Ms Cranshaw was in fact murdered and it must be one of them. The body count rises, hilarity grows and so do the dreams of Lieutenant Cioffi who really just wants to be on the stage.
Legat is compelling and funny in his role as the detective-cum-musical theatre enthusiast, most particularly in "Coffee Shop Nights", a touching song which he delivers with just the right amount of self-deprecating humour. His character drives the whole show, and Legat gives a stand out performance. Bryan Kennedy is also utterly brilliant as the camp and constantly derisive director of Robbin' Hood Christopher Belling. Chorus members are also notable for their ability to contain some ambitious pieces of choreography (Robbie O'Reilly) to just within kicking distance of the front row.
The trouble is that this musical was clearly meant to play in large theatres, and the Landor is just not quite the right space to showcase the possibilities for larger orchestrations and even bigger choreography, although it does mean that the opener "Wide Open Spaces" takes on a particularly amusing ironic quality. There are some sticky moments when line delivery and timing means that good opportunities for jokes fall flat, and the plot doesn't seem to quite come together at times. But then "Curtains" was written amidst tragedy—Fred Ebb died before all the lyrics were completed, as did book writer Peter Stone—so it is no wonder that at times the musical seems to take on two different characters.
All in all, however, it is a thoroughly enjoyable musical and if you are looking for something fresh and certainly full of potential, then Curtains is the show for you.
Reviewer: Anna Jones