Custody
Created by Urban Wolf and written by Tom Wainwright
Ovalhouse and The Art Machine
Ovalhouse
–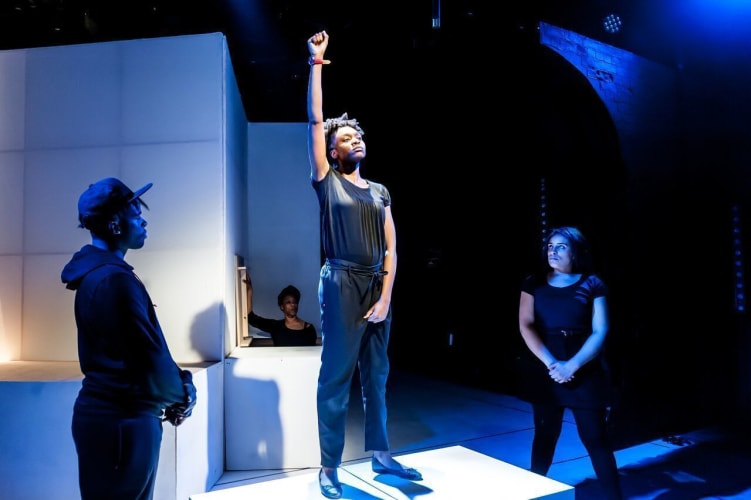 Urbain Hayo (aka Urban Wolf) created this play as a response to a documentary film about the struggle of families of people who died in police custody to get justice, with background experience of stop and search as a youth and research he and writer Tom Wainwright undertook among the families of men who died in custody.
Wainwright dedicates it to them and anyone who has lost a loved one in police custody. In the USA, the Black Lives Matter movement has drawn attention to the treatment of black men but in England and Wales since 1990, 147 BEMA individuals have died in police custody without even one prosecution for homicide.
This isn't a play about the police but about one fictional family and the effect that such a death has on them. It is written in a form of free verse and director Gbemisola Ikumelo and her designer Phil Newman present it in a stylised manner, formally framing its emotional content.
In front of a black and white wall pierced by the black silhouette of a head, a reminder of the man who is missing, is an arc of floral tributes and other memorial offerings and within this a group of people are pacing, sharply changing direction like sentries on duty. These are the family of the dead man.
The text is direct and very simple. At first, with a backing of rhythmic drumming, it's like Tony Harrison's version of Aeschylus as the authorities hesitantly announce: "There. / There was. / There was a. / There was a bit. / There was a bit of. / There was a bit of scuffle. / And…. / He, He passed. / He passed away."
The crunch of paper cups at the end of this speech then marks the snuffing out of life.
The dead man was Brian Olayinka, thirty, good-looking and careful about is appearance, happy and living with the woman he is planning to marry. We see the family and his fiancée trying to take in the news of his death, his sister insisting they unzip the body bag in the mortuary (where they don't want her to see his injuries), his lover, feeling a stranger at the wake they hold (a funeral must wait until after the coroner's inquest), where an uncle tries to proposition her. The inquest does find the killing unlawful but with insufficient evidence to prosecute.
His mother, finding no solace in the Church, turns to obeah ritual. She at least thinks she makes contact with him, shares his dying. His brother, though missing the comrade he shared so much of his life, is no longer in the shadow of the first born who was his mother's favourite. The lover briefly thinks of the brother as a replacement, he even smells like Brian, but she learns to get on with her own life, finds a new man, a white one, has a baby. The sister goes on campaigning for action, her younger brother eventually joining her.
As the opening moves into the domestic, the wall opens up revealing angled, smooth, white walls and cabinets. A saucepan on a surface turns it into a kitchen, a head can suddenly pop up though a space, they are rearranged by the cast to form morgue, courthouse, church or home again. Everything moves smoothly and rapidly through a series of short scenes that represent a wide canvas through microcosmic detail.
It is intensely played by Kiké Brimah as the Sister, Sacharissa Claxton as the lover, Karlina Grace-Paseda as the Mother and Urbain Hayo as the Brother. It is a serious subject but in a play that reproduces the realities of family interaction there is naturally humour. It is part of the action but not played for laughs—though it did get some, perhaps from the nervous reaction of people for whom it was too close to their own experience or simply the effect of the drinks in their hands still. It says much for the actors that this didn't throw them.
Wainwright and Hayo have a good ear for the vernacular but in a production which they have said they would like to increase awareness among white theatregoers the rapid delivery and elisions Hayo's authentic South London speech and the Mother's West Indian accent may prove difficult for those not used to them. A little less pace and more enunciation wouldn't seem unnatural in a production which already has a formal structure and they would make it easier to follow.
The play ends as it started. It offers no closure. Behind it is a storyline of campaigning for a man's reputation and for justice but instead of concentrating on a narrative it tries to share what it can feel like when you are caught up in what still appears to be the result of prejudice.
Reviewer: Howard Loxton