Cymbeline
William Shakespeare
Phizzical in association with Belgrade Theatre Coventry
Tara Arts Studio
–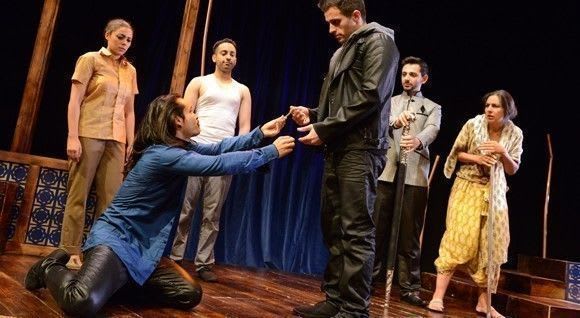 Phizzical is a Leicester-based company that is influenced by international cultures and seeks to reach out to new audiences. Here it is clearly drawing on the experience of its local South Asian culture in transferring the action of Shakespeare's late play from ancient Britain and Rome to India and Dubai.
In director Sâmir Bhamra's version, King Cymbeline is now a Bollywood movie mogul and the long-banished Lord Belarius is now a former serving woman called Bela. Apart from Cymbeline's step-son Cloten, all the other characters names have changed, which could cause confusion if you are very familiar with the play but is no problem for newcomers. For the most part, the rest of the plot and most of the dialogue is Shakespeare's.
It is a story of deceit, revenge and spitefulness combined with old fashioned romance that has always been something of a challenge to make believable. Bhamra cuts the deus ex machina appearance of Jupiter to solve its problems and instead relies on a Bollywood naivety to give it a storybook acceptability to its awkwardnesses, such as the solution that he finds to present a headless body.
Sophie Khan Levy is a charming Innojaan, Cymbeline's daughter, who is the subject of a bet between her husband Sherrudin Khan and Yakim about her faithfulness, but, though she delivers the text with clarity, she has not yet made it her own, except when she is disguised as the boy Fidel, aided perhaps by the more conscious level of characterisation. She is not alone in this: Adam Youssefbeygi's Sherrudin, is more convincing in his major speeches than elsewhere and seems happiest in the physicality of his role and when playing Dr Cornelius who, though a tiny role, is central to the plot.
Nicholas Gauci as Cloten, Tony Hasnath's Yakim and Liz Jadav's Malika all adopt the stereotypes of Bollywood villains, which works in this context, but Gauci, Jadav and Roby Khelev as Sherrudin's servant Pisanwa resort less successfully to coarse acting ways of indicating aging when doubling parts above their years. Khelev and Hasnath are much more successful when playing Cymbeline's sons, two lads who do not need to stop and think about what they are doing and saying.
This version of the story seems even more complicated than Shakespeare's, especially when what is supposed to be a mafia gang goes into battle with swords and bucklers, but full marks for the display of martial arts that greets them.
The mildly erotic photographs of a bare-chested man and lovely lady both wearing partial armour used to publicise the production suggest a romantic saga with a sense of Bollywood glamour that fits the story but isn't delivered here. A movie mogul and the mafia don't fit this fairy-tale scenario. Cymbeline needs more Bollywood fantasy and less Mumbai mystification.
The energy and enthusiasm of the cast carry this along and with Shakespeare's contrived happy ending pressing all the right buttons it will send its audiences home happy, but this version doesn't solve the problems this difficult play poses.
Reviewer: Howard Loxton