Cyrano
Edmond Rostand, adapted by Deborah McAndrew
Northern Broadsides
New Vic Theatre, Newcastle-under-Lyme
–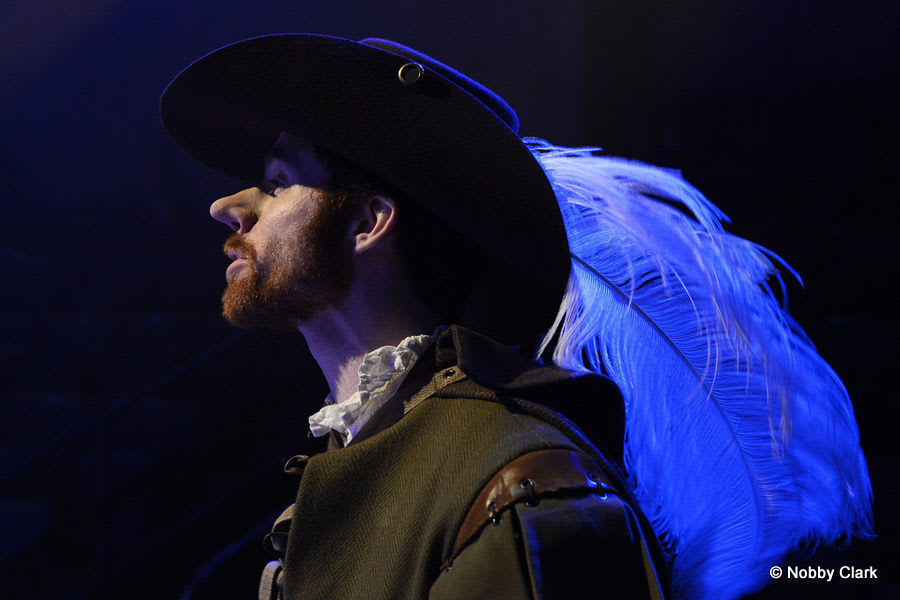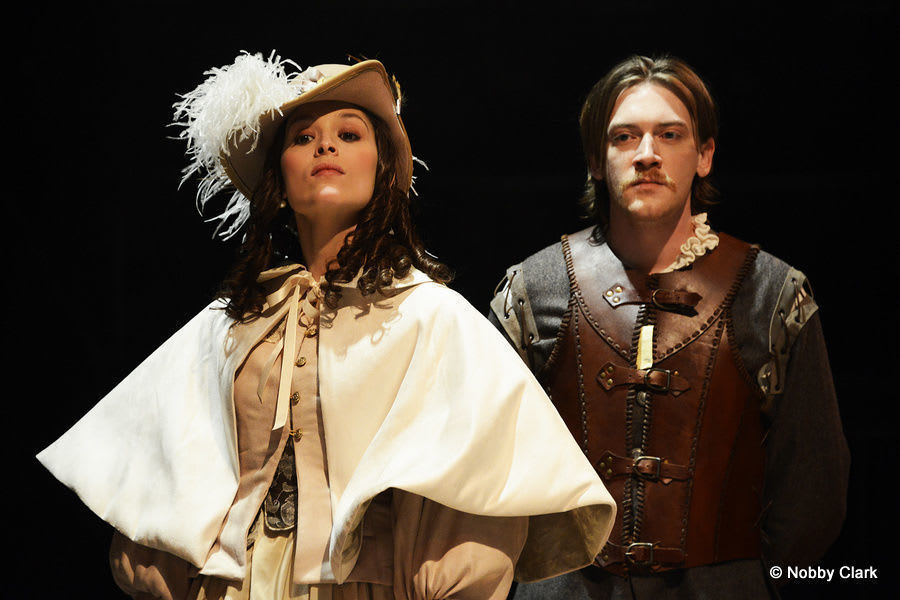 Deborah McAndrew's starting point for her new adaptation of Edmond Rostand's much-performed comedy was to forget previous versions she had seen.
She ignored Penelope Keith's portrayal of the desirable Roxane in the Morecambe and Wise television pastiche as well as Gérard Depardieu's big-screen interpretation of the swashbuckling yet insecure Cyrano de Bergerac.
So although Empire magazine voted Cyrano de Bergerac one of the 100 best films of world cinema, McAndrew had to look at the story afresh.
She found in Rostand's 1897 play a tale of three young people in love. This clearly is the focus of Cyrano, Northern Broadsides' eighth co-production with the north Staffordshire theatre-in-the-round the New Vic, which goes on tour after its Newcastle run.
McAndrew's new account is a funny, bawdy romp which has exuberance and passion at its core. It has copious amounts of poignancy and tension coupled with a heart-tearing ending.
She mirrors Rostand's romantic comedy by writing most of it in verse, although she adopts a freer form for certain characters. The script sparkles and does not drag despite its two-and-a-half hours length.
In typical Northern Broadsides fashion, Cyrano is an ensemble piece which calls for energetic actors with musical talent too.
Most of Cyrano is set in 1640 during the Thirty Years War. It is the story of Cyrano Savinien Hercule de Bergerac, a courageous soldier whose confidence and swagger hide his insecurity about his massive nose. He is in love with his cousin Roxane but thinks she will not love him because of his appearance.
When Baron Christian de Neuvillette appears on the scene, Roxane is smitten by his eloquence as well as his handsome appearance. Little does she know that Cyrano is putting words in his mouth.
Christian Edwards is superb as Cyrano, a cocky braggart whose exploits make him a hero. He endears himself to the audience even though Cyrano gets violent with anyone who makes fun of or stares at his nose. There is a huge amount of sympathy for the vulnerable, self-deprecating man who is fearless on the battlefield but fears revealing his deep feelings for Roxane.
Adam Barlow is impressive as Christian who is the object of Roxane's desire but reluctant to carry on with the deception of using Cyrano's words to express his love for her.
Sharon Singh's portrayal of Roxane gives her a slightly hard edge, her hint at aloofness no doubt adding to her attractiveness in some people's eyes but also making her less appealing to others.
There is a spirited performance from Andy Cryer as the proud Count de Guiche who is obsessed with Roxane and has a cunning plan to marry her to a spineless stooge who will share her with him.
Michael Hugo, a Northern Broadsides and New Vic regular who always gives an inspiring performance, hits the right note as Ligniere, the drunken poet whose vulgar, comic song about de Guiche is the toast of the taverns of Paris.
Francesca Mills is charmingly prominent as she flits about the stage in a variety of roles, her beguiling smile being her most prominent characteristic.
Director Conrad Nelson injects pace and flair into a production that shows how everyone connected with Northern Broadsides has a nose for a good story, no matter how old it is.
Reviewer: Steve Orme