Cyrano
Edmond Rostand, adapted by Deborah McAndrew
Northern Broadsides
West Yorkshire Playhouse, Leeds
–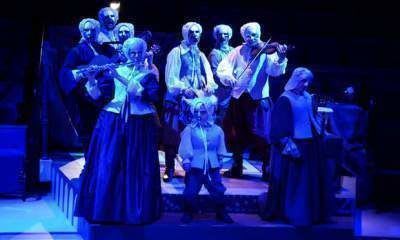 Until recently my knowledge of Cyrano de Bergerac did not stretch beyond the film Roxanne (1987), in which Steve Martin plays a big-nosed fireman, and the Christmas comedy sketch that Morecambe and Wise did with Penelope Keith. After watching Northern Broadsides' latest production, it appears that I've been missing out.
Adapted by long-time collaborator Deborah McAndrew from Edmond Rostand's classic 1897 play, Cyrano is a boisterous and jubilant romantic comedy set against the Thirty Years War (1618-48) in which France and Spain were on opposing sides. Cyrano de Bergerac (Christian Edwards) is a swaggering soldier in the Cadets—a man of extraordinary wit and courage. However, his bravado hides a crippling insecurity about his unusually large schnoz.
Cyrano is madly in love with his cousin, the bewitching and brilliant Roxane (Sharon Singh), but she finds herself drawn to the newest member of the Cadets, the handsome but tongue-tied Christian (Adam Barlow). Putting his own devotion to one side, Cyrano agrees to lend his own articulacy to the young suitor by penning his love letters to Roxane and speaking on his behalf.
There is a long-standing tradition of casting more mature actors in the role of Cyrano, but—as McAndrew observes in the programme notes—the character is not really supposed to be much older than either Roxane or Christian. In this production, the youthful Christian Edwards cuts a dash as the hopelessly romantic hero and he is extremely impressive. He combines verbal dexterity with lithe physicality, and movingly conveys the character's romantic frustration.
Next to the Shakespearean exuberance of Cyrano, most characters would seem a little flat in comparison, and for me this is true of Roxane and Christian. That said, Sharon Singh and Adam Barlow both give strong, likeable performances.
The production is filled with delightful supporting turns. As De Guiche, the aristocrat who wishes to turn Roxane into his concubine, Andy Cryer is deliciously dastardly in the first half and surprisingly sympathetic in the second. I was also impressed by Paul Barnhill's performance as Ragueneau, the poetry-loving baker who is happy to exchange pastries for sonnets.
I won't single out every actor in the production, but suffice to say they all give lively and energetic performances. Furthermore, it was a pleasure to watch such a sizeable cast mill around the stage.
Director and composer Conrad Nelson delivers an energetic production filled with beguiling music. In one of the production's most striking scenes, Cyrano distracts De Guise by posing as a man who has fallen from the moon. This leads into a mesmerising jazz number, which the actors perform whilst wearing alarming masks reminiscent of Stanley Kubrick's Eyes Wide Shut (1999).
Northern Broadsides offers a pleasingly traditional production of Rostand's play with sumptuous costumes and a handsome set from Lis Evans. Special praise must go to Daniella Beattie for her gorgeously evocative lighting designs.
Although the play felt a bit overlong at just under three hours, I was riveted throughout. The creative partnership between Conrad Nelson and Deborah McAndrew has produced some of Northern Broadsides' finest productions, and I would rank Cyrano alongside its excellent version of Gogol's The Government Inspector from 2012.
Reviewer: James Ballands