Cyrano de Bergerac
Edmond Rostand, translated and adapted by Anthony Burgess
Royal Exchange Theatre, Manchester
(2006)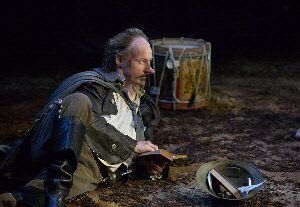 Again the Royal Exchange has presented something light-hearted and adult for its festive fare, avoiding the usual family shows and adaptations of children's stories. This year it presents Greg Hersov's production of an adaptation by Anthony Burgess of the late nineteenth-century French classic Cyrano de Bergerac by Edmond Rostand.
Cyrano is a great hero who will fight a hundred men without a thought, a great wit who is never short of a clever retort or insult, a poet who can charm anyone with his words, and a great romantic who falls in love once and for ever. His one weakness is his looks - more specifically his large nose - of which he is very conscious and which stops him from pursuing the one he loves passionately: Roxane. When Roxane falls for Christian, a soldier with looks and strength but little intelligence, Cyrano supplies him with the words to say and write to Roxane to make her happy.
The fact that this was written as a lengthy historical verse play at the time that short naturalistic dramas were on the rise is not this play's only contradiction. It is a comedy, but it also has strong elements of tragedy, and it certainly does not have a conventional comedy ending; just as you think you've sorted out who the baddy is, he changes sides and you have to start to like him. Burgess's adaptation is lively and funny with some rich, playful use of language that the writer seems to enjoy as much as the lead character.
This production actually begins outside the theatre, as many of the actors in costume and character mix with the audience, hurling banter at them in loud, actorish voices. They gradually assemble on stage, still bantering, and merge into the dialogue from the play, initially still with the house lights and the lights outside the theatre fully on. This idea of characters chatting to the audience can work very well - it did in Animal Crackers at this theatre - but doesn't seem to have much effect here. This gradual start and the sparse setting make the beginning a little confusing, and it was quite a while before I managed to work out where we were and what was happening (and for a little while whether the play had started or we were still being asked to turn off our mobile 'phones).
The play was written as a vehicle for a virtuoso acting performance in the lead role, originally by Benoît-Constant Coquelin, and the Exchange has found an actor quite capable of filling that role in Ben Keaton. His comic ability is in little doubt from his superb performances in Animal Crackers, The Play What I Wrote and Father Ted as well as his frequent appearances on the comedy impro circuit. He showed in Harvey at the Exchange last Christmas that he can produce a very moving performance, which also comes out here, plus if you put a sword in his hand he can swashbuckle with the best of them.
The fifteen-strong cast plays a total of 28 named parts plus other smaller parts. Jessica Oyelowo is the object of Cyrano's obsession, Roxane, who falls for the pretty-but-dense boy Christian, played by Oliver Chris; both actors hit just the right notes with the playing of their characters. There are some other decent performances, but, whether the actors like it or not, this was never written to be an ensemble piece and all characters are merely there for the main character to feed off. Rae Smith's design keeps the stage pretty bare for much of the time to allow the actors to create their world, and there are some nice subtle effects with falling leaves later on.
The production is a little uneven, but there are a lot of wonderfully funny and moving moments in it, even though there are other parts that are unclear or seem to go on a bit. The pace picks up a lot in the second half as the play moves towards its unsatisfying but justified conclusion. While there are some perfectly decent performances from the other actors, it is Keaton, announced this week as 'best actor' at the MEN Theatre Awards for his performance in Harvey, who brings the play to life every time he steps onto the stage and must take a large part of the credit for making so much of this over-long production so entertaining.
Reviewer: David Chadderton