D'Eon
Renny Krupinski
The Straight Acting Theatre Company
Hope Mill Theatre
–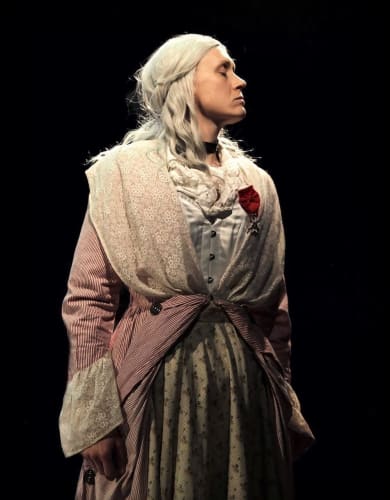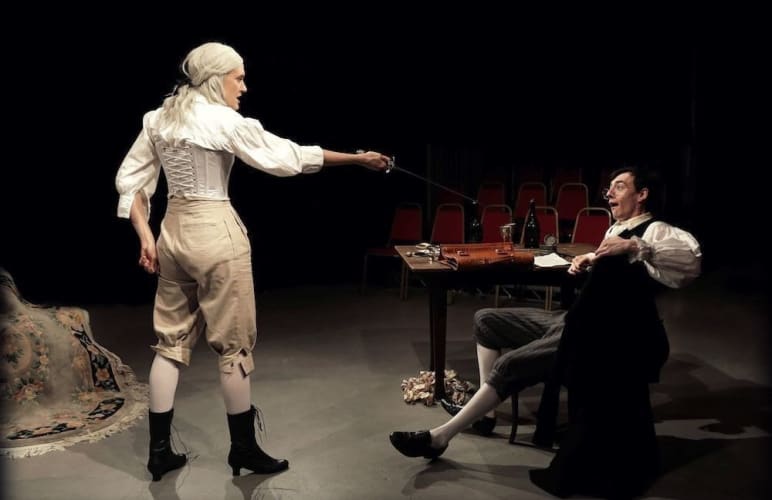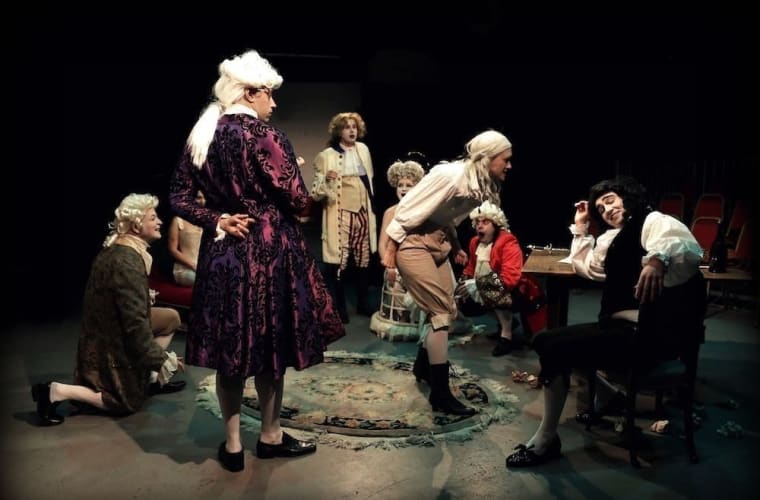 The latest play from actor, writer, director and fight choreographer Renny Krupinski is a remarkably ambitious sweep through French 18th-century history with a cast of 12 performing in-the-round in a very intimate space in Hope Mill.
It deals with the fascinating true story of Charles-Geneviève-Louis-Auguste-André-Timothée d'Éon de Beaumont (Kaitlin Howard)—the D'Eon of the title—whom we first see at the age of 81, post-Revolution, demanding alcohol from the widow Mrs Cole (Louise McNulty) to stave off the DTs.
One of these drink-induced hallucinations is Patrick Bridgeman, who sits behind a keyboard wearing a dress providing some very atmospheric accompanying music throughout, and the other is us, the audience, to whom D'Eon tells the story—a neat device to bring the artifice of theatre into the character's real world. D'Eon also sees people from the past, now dead, including two French kings and their mistresses, various nobles and the writer Beaumarchais, haunting the one left alive.
Against the will of her charge, Mrs Cole admits young, easily shockable Thomas Plummer (William J Holstead) who is taking notes for a book about D'Eon's life and has much-needed money to exchange for memories. So D'eon tells him: she was brought up by her father as a boy and knew no different, learning to fence and dressing as a boy. As an adult, she entered politics as a man, joining King Louis XIV's (Marc Geoffrey) secret spy network and going on a secret mission to Russia—dressed as a woman.
Returning to France, she became a decorated war hero as a male soldier, but then there were rumours while in exile in London that "he" was a "she", prompting bets on the London Stock Exchange on D'Eon's sex, but he/she refused to submit to the indignity of confirming it. When Louis XVI (Ethan Holmes) took over from his grandfather, he refused to accept a woman could be a decorated war hero or a soldier at all and insisted, through negotiations conducted by Beaumarchais (Dean Anthony Fagan), that she must dress as a woman and retire from political life to be allowed back to France.
Krupinski himself describes this as "a hugely challenging epic monster of a play", which is undoubtedly true. The plot features politics, spying, attempted murder, lots of sex and political intrigue; the staging has elaborate eighteenth-century costumes and sword fights almost in the lap of the front row; the huge cast all give full-on, dedicated performances with not a weak link amongst them. It all seems like so much work for less than a week of performances; one hopes it goes further for that reason alone.
The script takes an already intriguing story that I certainly didn't know and tells it pretty well for the most part. Not being up on my French history, having the stage filled with shouty people about whom I knew little to nothing early on was a little confusing and it took me a while to really get to grips with what was going on. This isn't helped by having two separate devices for the hero/ine to tell her story to the audience—hallucinating an audience in her room and having a writer to tell it to—which seems one too many.
The whole play revolves around a very impressive and powerful central performance by Howard, who rarely leaves the stage, with Holstead perfect as the nervous naïf, trying to get the truth out of her without getting stabbed. Completing the cast are Adrian Palmer as Comte De Guerchy, Evelyn Roberts as Madame Du Barry, Adam Elms as Duc De Choiseul, Rachel Gill Davis as Madame Pompadour and Lucas Smith as Morande.
While the storytelling at times could be clearer, this feels like a remarkably accomplished production of a huge play, despite the small stage. There is a twist at the end that throws everything before it in doubt; you can guess at the nature of it if you read Wikipedia, but not at the explicit way in which it is revealed.
Reviewer: David Chadderton