Daddy Long Legs
Paul Gordon and John Caird
Rubicon Theatre Company
St James Theatre
–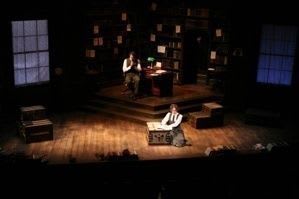 If your mood needs defrosting with the new winter chill then this heartwarming Daddy Long Legs is a must see!
A UK première, Daddy Long Legs is based on a much-loved novel by Jean Abbot, re-written and directed by John Caird.
An unusual form for the stage, the whole plot is spun out through letters. Jerusha Abbott (Megan McGinnis) is supported financially through college on the condition she writes to her unknown benefactor monthly, but he will never reply. McGinnis and Robert Adelman Hancock (Daddy Long Legs, aka Jervis) are a charismatic duo, easily commanding our attention for two hours revisiting Jerusha's letters.
Jerusha creates a fantasy character to address, Daddy Long Legs, and sends such impetuous, energetic letters that he feels he must meet her. He keeps his identity secret, and visits under the guise of her college-mate's Uncle Jervis instead. A tangle of lies unfolds as Jerusha writes to Daddy of the wonderful man she has met, and Jervis is caught up in the pretence unable to find the courage to tell her whom she is addressing.
McGinnis is charming, cast perfectly, her petite frame and pure tone easily lend to the fresh, youthful Jerusha. She is effervescent onstage, and Caird's witty script easily bounces between her and Hancock, who has great presence but is vocally outshone by McGinnis. He seems not quite strong enough for the tricky high vocal line, which is surprising as the role was created with him in mind.
Set in the early 1900s, set and costume (David Farley) are beautiful. The whole show takes place in a large, wood-paneled room, the top raised corner Jervis's study and the rest filled only with trunks. These are transformed into any shape required and handily house the enormous collection of books Jerusha pores over through her college life.
What is really refreshing is the use of language throughout the musical. With Jerusha aspiring to be a writer, her letters to Daddy are full of fantastic, descriptive prose and the song lyrics are certainly not typical of the West End musical. There are also constant literary references to Milton, Austen and a host of other authors that makes me want to pull out some of the old classics.
The music (Paul Gordan) is easy to listen to, and there are some surprisingly catchy tunes. It glides between speech and song, building into the second half with some hit tunes with a deeper emotional content.
This is a sweet musical that makes a refreshing change from the hugely engineered Broadway beasts, and it's easy to see why it been a great success in its previous 16-city visits in the USA. This is not taxing and doesn't push to the emotional extremes but its charm hooks you in and leaves the audience willing the story on.
Combined with the plush surrounds of the new St James Theatre, it's the perfect evening out to unwind.
Reviewer: Louise Lewis