Daisy Pulls It Off
Denise Deegan
Nadine's Window
Arts Theatre
(2010)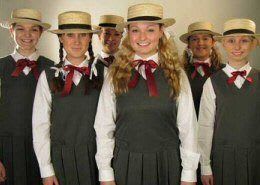 The Nadine's Window production of this perky, plucky, loveable little play first played at Baron's Court Theatre in 2008 and 2009, and now comes to the West End for a short run. It is not quite a children's play but is clearly aimed at family audiences, and teenage girls in particular; and it is so unashamedly whole-hearted and lacking in cynicism that it would be hard to begrudge it any success.
It is 1927, and Daisy Meredith, "honourable, courageous, and straight in all things" as she cheerfully announces, is a bright elementary school pupil who has become the first to win a scholarship to the elite Grangewood School for Girls, normally reserved for children of the moneyed upper classes. She is greeted coldly by many of the snobbish pupils of this most upright institution, but through a year of twists, turns, adventures and spiffing japes she wins over the hearts of all with her decency, honesty and good old-fashioned British pluck.
It really is as straightforward as that. We may smile at the tidal wave of jolly-hocky-sticks cliches that forms the dialogue - all spiffing times and utter rot and mangled French and Latin mottos ("Jubilate!", "Scooterons-nous!"). And the schoolgirls tend to be defined by a single character trait that determines their role in Daisy's journey, but they cheerfully announce as much themselves when they march on stage and introduce themselves. This is not really a send-up: it's much more like a loving homage to the form.
The attention given to the incidental events of the school year - music lessons, dances in the great hall, hockey matches - recalls boarding school narratives such as Harry Potter, and suggests that Deegan wants us to become immersed in this world and care about all its details, whether they are relevant to the central plot or not. It's a nice intention, and I can see teenage girls enjoying it; and it did recall for me every last detail of the Enid Blyton books I devoured as a child. Deegan scatters the story with countless lovely specifics, particularly in the girls' idiosyncratic speech, and she paces the narrative deftly. She also manages to acknowledge the enclosed nature of the world that is a boarding school, with one of the sixth-formers, soon to graduate, daring to voice the fear that "the real world may not be quite like Grangewood". Indeed not.
But it's a difficult play to place: being far too gentle to be a parody, and at the same time far too stuffed with moments of self-parody to be taken seriously as a drama. It is put forward as a play addressing class prejudice and bullying, and it does provide a nicely feelgood ending in which the good girl through strength of character overcomes her tormentors. Most interestingly, it harks back to a word where honour, honesty and decency were not ambiguous or outdated concepts but the currency of everyday life. It's a refreshing thing to see on stage.
But there are inevitably some problems with this: the school's code of conduct forbids "sneaking", meaning that Daisy cannot tell teachers or parents about her persecution, and it's only really through lucky circumstance that all turns out well for her. It's hard to relate this to modern-day bullying. Also associated with the characters' moral system is a lot of rhetoric about England and Empire, which we can laugh at now of course; but it produces questionable moments. There is a mysterious Russian teacher at Grangewood, whom the girls at first assume is after the school's hidden treasure "to help his Bolshevik friends"; but once it's revealed that he is an aristocrat who fled the Russian Revolution, all is well. For a play that wants to hymn progressive social values, some of the girls' beliefs and assumptions go weirdly unchallenged.
In terms of providing positive examples to a young audience, one of the best aspects of the play is Deegan's commitment to representing strong women. This is a world almost entirely without men, and so it almost goes without saying that the women will be strong, sensible, authoritative, and fulfill every role that this society-in-miniature requires. There are as many hierarchies and power structures as any military academy could boast - from dorm monitors to form captains to prefects to head girls - and the girls are judged on their sporting prowess at least as much as their academic record. They are practical, competent, independent-minded and tomboyish, and they have never dreamt of making sexual attractiveness any part of their identity. It's a bygone age, certainly; but it's oddly pleasing to see Deegan present such a pure feminist vision.
Nadine Hanwell's simple staging does a lot with a minimal set, and keeps the action moving along nicely for the most part. The cast inject a lot of life into the proceedings, with Lucy Austin good as the irrepressibly perky and charming Daisy, and Rebecca Haigh giving fine support as her flyaway best friend. All power to them.
Until 6th February
Reviewer: Corinne Salisbury