Dali's Lionette
Palladini Productions
Salvador & Amanda Restaurant
(2011)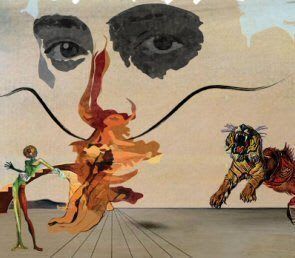 Dali's Lionette was Elena Ivanovna Diakonova, an older Russian woman whom painter Salvador Dali met when she was the wife of French poet and surrealist Paul Eluard. She and Dali soon became lovers and later became his wife and muse, better known to most people as Gala. Lionette was another of his names for her because, he said, "when she gets angry she roars like the Metro-Goldwyn-Mayer lion".
I rather expected this entertainment to be about her - and perhaps it was in its own attempt at a surreal presentation. The press release said it "navigates the strange and boundless worlds of the Dalinian universe," and that "short cabaret sketches explore the greedy, turbulent eroticism and unrestrained madnesses which comprise the mysterious Gala-Dali and Amanda partnership." First, however, it has to overcome the problem of navigating the venue.
There is a small area at the bottom of the stairs that lead down from this discreetly lit restaurant that is probably usually used as a dance floor and part of the performance takes place there. Unfortunately you cannot easily see it from most of the restaurant, especially as it is hardly lit and even a candle in my eye line was too dazzling to see beyond if I did not block out its light. To compensate for this, the performers range all round the restaurant, sometimes interacting with the diners, but, afraid I might be missing something I frequently left my table to get a better view of anything that was going on, though frequently that turned out to be not very much.
Gala, Dali and Amanda do indeed suggest a very interesting human triangle, Amanda, being singer and model Amanda Lear, whom it was once rumoured had a sex-change paid for by Dali, though she has always denied that she was born a boy.
Two writers are credited, although there seemed to be neither dialogue nor any non-verbal scenario to present the trio's relationship, unless it was played out on the video screen on the far side of the room which had a long loop of Dali documentary material. As for turbulent eroticism and unrestrained madnesses - if you had gone out to eat unaware this peripatetic cabaret was going to happen you might have been surprised and even a little titillated. If you went to see a show and conveniently eat while watching it was very thin material to stretch out over two hours.
What you got in fact was a young man in a red frock coat carrying a Daliesque wand who presumably represented the self-styled genius. A lady parading around in a Statue of Liberty headdress and a skull-like makeup probably represented Gala . Free of the headdress she later performed a rather stately dance. A blonde lady, who also sang, was the Amanda of the trio I presume. However, they did nothing to throw much light on their "mysterious relationship"; indeed there was far too little light to even see the performers unless you were right up close to them.
It was clear that a great deal of thought had gone into the costumes, which offered their own interpretation of surreal ideas and, though for me only an image in the distance, compiling the video must also have taken considerable research and effort while the music provided an eclectic mixture. One particular swelling theme did seem to signal "pay attention, something is about to happen", but with performance elements spread through the evening it needed more obvious markers to draw diners away from their food and conversation. For me the most effective element of the surreal with a delightful, sometimes provocative, sometimes winsome leopard-cat- spotted contortionist sprouting whiskers and sometimes sporting wings who not only would suddenly appear beside you but also slither, unnoticed until the last moment, beneath your feet.
Director Saima Duhare was working for the first time in this difficult space and the fact that the press release's sketches did not materialise suggests that she rapidly learned to tailor her material to fit its limitations. Although Palladini at the moment announce only one further performance the restaurant's website promotes both this and a surreal circus night on every Wednesday. If Dali's Lionette continues or has a successor here Duhare will have to find ways to make the content clearer and her performers more visible to more of the audience.
The next performance of "Dali's Lionette" is on 21st September 2011.
The venue is at 8 Great Newport Street
Reviewer: Howard Loxton