Damascus
David Greig
Traverse Theatre production
Tricycle Theatre
(2009)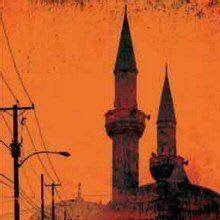 We are in the lobby of an hotel where Elena (Dolya Gavanski), a Marxist Ukrainian transsexual, is at the piano repeating a repertoire to match the time of day, annoyed at having to play Euro pop and amusing herself by performing Chopin nocturnes back to front or Boulez upside down or in the early morning stretching out the notes so that you hardly know there's music being played at all. She acts as an informant (she's ex-KGB) and occasional commentator and later helps act out a scene that occurs beyond the hotel walls. This is not a strictly naturalistic play.
Here Zakaria (Khalid Laith) is in charge, a young man who is concierge, porter and general factotum, desperate to get away to the West, would-be writer with the manuscript of his own biographical story which he hopes to sell to Hollywood.
This is where Paul (Paul Higgins), the Scottish author of an EFL course book, on a fleeting visit to Damascus, is hoping to sell an edition to Syrian educationalists. Here he is meeting Wasim (Alex Elliott), Dean of a language college, and his staff member and former lover Muna (Nathalie Armin) whom he hopes will give him a big order.
A soundless television in the lobby shows Middle Eastern politicians, war reports, refugees and later Gordon Brown and British anti-war protestors - a continuing reminder of the conflict that is going on in the region.
It is Valentine's Day and Paul is eager to get back to his wife that night; there is no time to discuss the changes that Muna thinks necessary to make the course book suitable for Syrian use, but a bomb at Beirut airport means his flight is cancelled. He stays. They meet again.
Amendments to the text and pictures are a clever, if fairly obvious way of presenting the differences between attitudes and the lack of knowledge of local circumstances between progressive Muna and Paul, whose interests are elsewhere. Like Paul's superficial friendship with Zakaria and irresponsible attitude to Muna it is all a rather heavy handed metaphor for British attitudes to the Middle East.
In Wasim and Muna Greig has created two very interesting characters. He, in early times, had served six months in prison for his libertarian ideals but now is a manipulator for an easier life interested largely in his own poetry. She comes from a Palestinian family expelled from Israel who went to Beirut and then had to flee from there. A modern secular feminist and opponent of fundamentalism, she has kept her Marxist beliefs. Greig seems more interested in echoes of their erotic back-story than in further exploration of the situation of leftist revolutionaries surrounded by an increasingly fundamentalist world. Unlike these intellectuals, Zakaria, from a family of mosaic makers, thinks only of sleeping with tourist girls and riches in California. Unlike Wasim he does not know how to compromise
Paul I could never quite believe in. Is it really likely that a publisher would send the author over as a salesman, that they would not have researched the territory beforehand - surely they would use an Arabic speaking representative in the region? The language market can be big business and this was an amateur! Being overtired may explain why he can't handle the constant pestering from Zakaria but his total insensitivity to people seems much more an analogy for Western attitudes than real human behaviour, especially when set against a beautiful account he gives of walking barefoot through the snow-covered courtyard of a mosque.
There is a leavening of humour in the Paul's sad attempts at conversational French and in the way in which Muna translates Wasim's rude or irrelevant comments in Arabic (which we hear in English) for Paul but this script leaves a hard working cast without the material to fly. In the case of Elena, Philip Howard's production places her at the keyboard with her back to the audience and miked so that her voice is blurred and it is often difficult to know what she is there for, apart from a layer of camp contrast. Is she the representative of Damascus as the city of refugees that is accepting of all, however unconventional or bizarre? Like much of this play a symbol rather than a real exploration of a situation?
A Traverse Theatre production, at the Tricycle until 7th March as part of an international tour.
Reviewer: Howard Loxton