Dancing with the Devil
Aletta Lawson
Theatre Lab
Sadler's Wells: Lilian Baylis Studio
–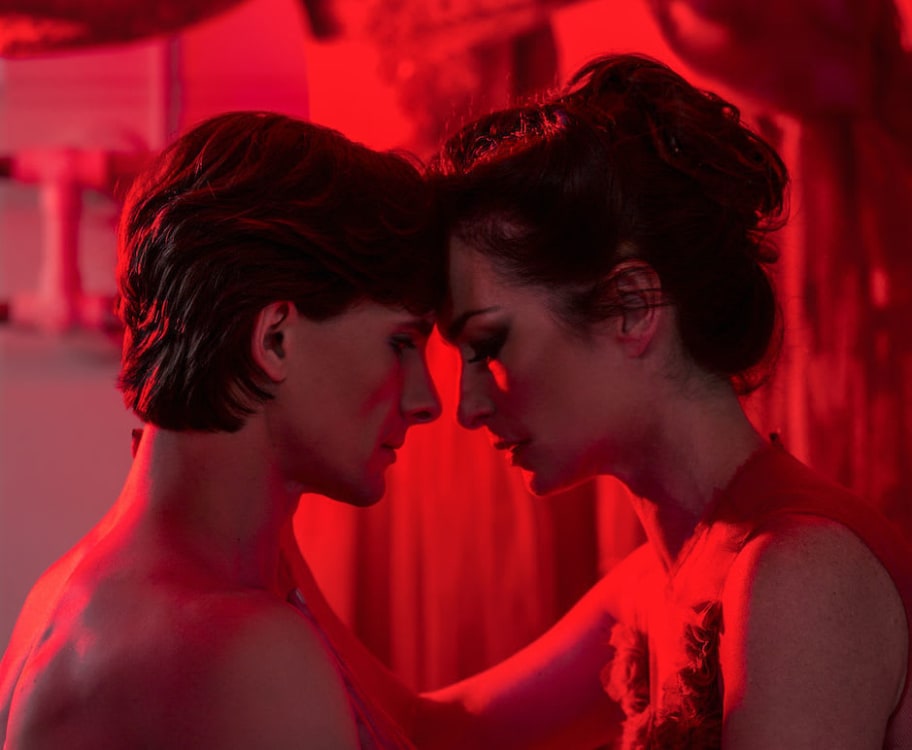 This is a play about Rudolph Nureyev that looks back on his life as he fights against AIDS in his Paris apartment.
Rudolph Nureyev and Margot Fonteyn were probably the world's most famous dance partnership and one of the most surprising. When they first met, the Russian dancer who had recently defected to the West was 24 and a new star in the dance firmament and the British ballerina 42 and thought on the cusp of retirement from dancing. One of ballet's greatest partnerships, they were also close friends and, some claim, lovers.
Why then did Nureyev not go to Fonteyn's funeral? Aletta Lawson uses that to provide a framework for her biographical drama as the near dying Nureyev plays with a music box inside which, even though you can't see it, there is sure to be a ballerina turning, and feels he is visited by her spirit.
She is there, asking that question and causing the dying dancer to conjure up the past. Anastasia Revi's Theatre Lab production places her upstage in a footlight-lit vitrine of diamante chains looking like one of the costume displays in the Royal Opera House front-of-house. It is a bit like the white swan Odette trying to get Siegfried's attention in the "black" second act of Swan Lake but this swan succeeds.
With a format that consists of a series of flashbacks, it is probably inevitable that the result feels episodic, situations and personalities have to be instantly created, there is little opportunity to present any depth of character, though each encounter shows us more about Nureyev.
From his childhood in Bashkir and his difficult relationship with his father, through his training at the Kirov School where he was befriended by Alexander and Xenia Pushkin, his first roles with the company, his defection, his relationship with the Danish dancer Eric Bruhn whom he idolised and his international success, this is a fragmented record as befits moments of memory. Though he went through life captivating both men and women, not all were enchanted: there is a glimpse of Cecil Beaton's very different reaction and of his reception on returning to Russia, including a painful reminder of the effect his defection had on his family.
As the play progresses, dance sequences that mark career highlights and an increasing emphasis on physical theatre give the production an increased unity. There is potential for more than one play in Nureyev's private life—his relationship with Sergei and female students, with the Pushkins, especially with Bruhn—but here we have the broad picture of a man driven by dance, pride and perfectionism.
There lies the answer to Fonteyn's question. Rudolph is sick, no longer the beautiful young man. His pride would not allow him to shatter the public's illusion and risk replacing his charismatic image with a different one.
Nureyev, lying on a chaise longue in an exotic dressing gown, rises to practice for his debut as an orchestral conductor, a new career planned now. His conducting is grotesque—in real life he would have been better—but this is effective in showing at the same time both his determination to do things and physical weakness that AIDS is bringing.
Benny Maslov as Nureyev somehow manages to suggest both the ravages of the disease that is killing him and the great dancer as he once was; it is as though he is dancing in his memory, trying to recapture the fire and the passion he once had. When eventually the living stage image is replaced by a fuzzy projection of Fonteyn and Nureyev in what looks like a black and white TV transmission of Giselle, it seems a deliberate reminder of what has been lost.
Jo Price, as Fonteyn, is allowed out of her showcase; we see the elegant Margot but also a glimpse of the humility and devotion to dance that let her welcome the chance to learn from a young man who rudely called her technique "shit".
The rest of the cast create a host of characters from KGB men to ballet stars. Peter Rae is a deliciously tart Beaton and kindly Pushkin among others, Carolin Ott is telling in a brief scene as Nureyev's sister, Denise Moreno is his student friend Sergei and a confident Maria Tallchief, suddenly stung by Nureyev's actions, and Helen Bang both Xenia Pushkin and Elli his devoted personal assistant.
Konstantinos Kavakiotis's roles include Fonteyn's husband, giving a hint of the charm that must originally have attracted her, and a strong portrayal of Eric Bruhn; he doesn't have a physique like the dancer but this characterisation adds depth to a glimpse of an important and intriguing relationship.
Aletta Lawson's play leaves out Nureyev's contribution to dance as a choreographer and a stager of ballets, his contribution to the work of the Paris Opera, but there is a sense that by highlighting key conflicts this telling becomes more than a superficial overview.
Occasionally, in presenting so many characters, accents become impenetrably dense and between some early scenes furniture rolled on and off makes it even more episodic, but the production soon gains impetus and director Revi's strong sense of theatre is always in evidence.
Reviewer: Howard Loxton