Dandy Darkly's All Aboard!

Dandy Darkly / Civil Disobedience
Underbelly, Bristo Square
–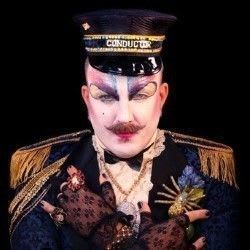 Welcoming the audience with a charming smile, a whiff of greasepaint and a flash of sequins, Dandy Darkly, our compère, conductor and storyteller, leads the humble audience through a series of tales that evoke the heat and horrors of the deep in this queer American Southern Gothic extravaganza.
It's a fittingly hot and sweaty evening experience, with Dandy telling the story of young Biscuit, a mixed-race boy who dreams of wearing flowing lace dresses, his Aunt Nancy who gives good advice that's rarely followed and the absurd and despicable Colonel Cracker, bent on growing rich and flooding the homes of America with his diabolical creations.
You'll likely be swept along with the adventures, and horrors, as you giggle at the weird people of Gaybird and enjoy this solid if inconsequential piece of evening entertainment. A perfect nightcap of a show. Fun, flimsy and fabulous.
Reviewer: Graeme Strachan