Dandy Dick
Sir Arthur Wing Pinero Adapted and directed by Christopher Luscombe
New Victoria Theatre, Woking
–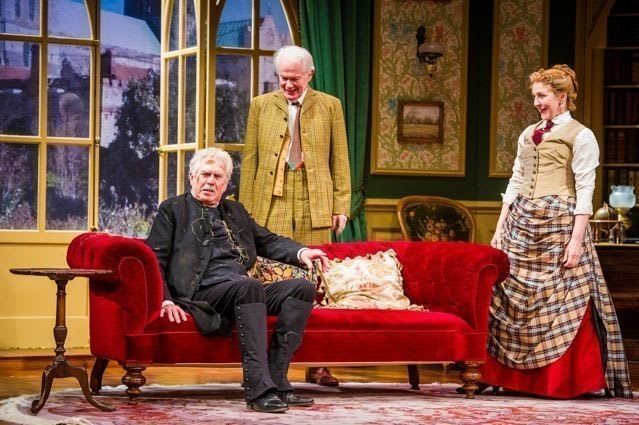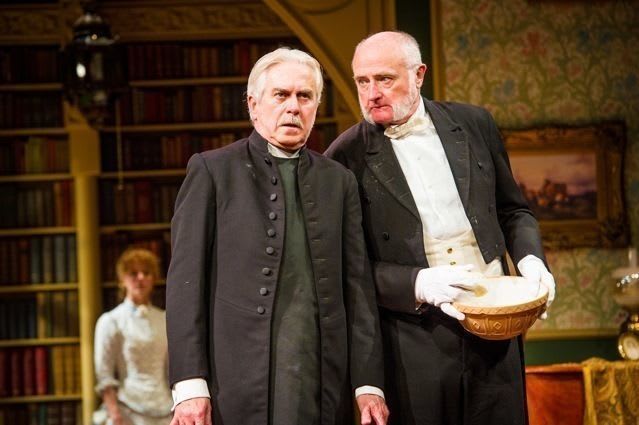 This newly-formed Brighton company is aiming to celebrate the excellence of British drama, at the same time put the Theatre Royal back on the map as a noteworthy producing theatre, and for their inaugural production (now touring) they have chosen Pinero's classic farce.
Written in 1887, when the author was living in Brighton and possibly inspired by the racecourse, this is a farce Victorian style and (thankfully) no one loses their trousers, but what is lost is dignity and possibly reputation.
Reputation and the respect of the community is very dear to the heart of the widowed, and worried Very Rev Augustin Jedd. Although finding difficulty in paying his bills with two very extravagant fashion conscious daughters, both intent on outshining others with their magnificent clothes, he has also pledged £1,000 towards the Church Restoration Fund and is at his wit's end to know how to pay up.
Enter sister Georgiana, a very active member of the disreputable horse-racing fraternity, part-owner of the horse Dandy Dick, and with inside knowledge that this horse is a certainty to win his next race. Is the temptation to gamble going to be too much for the Dean? Of course it is—and just to make sure of success he creeps into the stable at night to administer a mixture to enhance the horse's performance. Butler Blore (a lugubrious John Arthur) sabotages the intent but it is the Dean who finds himself arrested and spends the night in the police cell conveniently located in the officer's kitchen where we find the officer's wife Hannah happily baking (a very entertaining performance from Rachel Lumberg).
You can, more or less, see what is coming in each scene, but it is beautifully written with reams of comic dialogue, and performed with tongue-in-cheek panache by this excellent cast.
Patricia Hodge as Gloriana takes over the stage as soon as she strides in attired in tartan bustle with manly riding jacket and tie, but also sporting a fetching little matching hat. Hearty and devil-may-care, her conversation littered with horse references, she is matched in spirit and conversation with Michael Cochrane's horsey Sir Tristram Marden. Nicholas Le Prevost is, as always, spot-on as her righteous, reputation-minded brother torn between expediency and conscience.
Traits and foibles of the characters involved are those we recognise in others (if not ourselves) but greatly exaggerated, the whole performance reminding me very much of the over-emphasised acting of the silent film era which was to follow. The audience is often addressed directly in conversational asides, a style which would become screen captions.
There is a little music in the production composed by Nigel Hess and played most beautifully on violin by Charles de Bromhead, one of the girls' suitors, and the show concludes with the company singing the rather ambiguous "Oh Dear Papa" in a tuneful melody which carried us out of the theatre.
Luscombe's production won't tax the brain at all. It's silly but it's fun, in its way totally British—and very enjoyable.
Touring to Glasgow, York, Birmingham and Manchester with a London transfer planned.
Reviewer: Sheila Connor