Dangalnama
A FLAME Production directed by Prasad Vanarase
Theatre Royal Stratford East
(2008)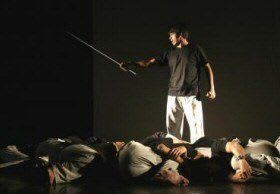 This is a ninety-minute piece in verbatim theatre mould that has been devised by its director and company. It makes use of a range of reports and individual memories of the unrest between sectarian groups that has seen India erupt in murderous riots since the assassination of Indira Ghandi in 1984. Here are the voices of the survivors describing their personal experiences, framed as the material presented by a journalist who can no longer handle reporting such horror. It is played in a mixture of languages, those of the individual actors: Marathi, English, Hindi, Kannada and Gujarati, with English surtitles whenever they are needed.
Figures assemble on a dark stage, huddle on the ground as we watch a series of photographic images of violence and its terrible results, burning buses, bleeding bodies, scorched babies, missiles littered among the dead, police. When the lights come up on actors in black t-shirts and grey tracksuit trousers, a girl's voice says 'There is someone who is bathing my days with blood,' followed by a litany of similar images in other voices. Each individual's horrific and graphic story is told straight out to the audience by actors who totally inhabit their characters, but this is also an intensely physical show, with stylized movement that presents horror and the fear of the victims while removing the potential of sharing any thrill from the perpetrators of violence. At several points the action becomes a beautiful dance solo that seems somehow to celebrate life as well as expressing fear and sorrow. It is played entirely against black drapes but is beautifully lit by Nikhil Gadgil and its images and movement lend the horror a terrible grace.
You cannot fail to be moved for it is performed with absolute sincerity by a cast of whom most have been trained by the school that is run by FLAME in India. It could become too grueling for its audience were it not lightened by an element of sardonic humour. There is a satirical sequence in which a government minister discovers his speech writer writes his opposition's replies at the same time as his speeches. There is a black joke when a line of the dead sit passing comment one to another, the last feeling isolated, but only for minutes before another one joins him, and there is a burst of colourful near Bollywood celebration when politicians woo the people to vote for them. These moments heighten the rest of the drama, not distract from it, but they do give a respite from horror. Although Dangalnama puts blame squarely on politicians this is not a play of political argument as to why these things happened but a raw appeal that they should not happen again. In making it this company have produced a gripping theatrical experience.
A Lift commission at Stratford East as part of LIFT '08 until 17th June 2008 (18th June performance has been unavoidably cancelled)
Reviewer: Howard Loxton