Dangerous Obsession
N J Crisp
A Thetare Royal, Bath, production
Yvonne Arnaud Theatre, Guildford, and touring
(2006)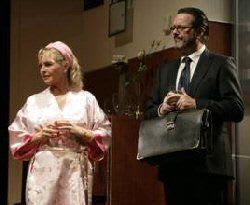 How much of a thrill can you get with only a cast of three? and how many twists and turns can a plot take to confuse us? Well – in this production it does pretty well.
The scene in set in the elegant modern conservatory of a luxury home, presumably in the Home Counties, and what an opulent home it is, with every conceivable technical gadget available. Not only is the music centre operated by remote control, but also the doors and the window blinds which can descend like shutters, shutting out the outside world – but also enclosing the inhabitants in a cocoon, or a prison!
Suspended from the ceiling is a CCTV screen surveying the whole of the house and garden. The owners must be very conscious of the need for security, but right now Sally Driscoll is relaxing in a sarong after a swim in the pool, bombarding herself and us with loud music, and unaware that she is being watched.
The observer, business-like in dark suit and carrying a substantial brief case, comes to the door and, believing him to be a salesman, Sally sends him away, but he returns and claims that they have met previously at a social occasion. His name is John Barrett and he certainly seems to know a lot about her. Then follows the kind of conversation where Sally desperately tries to recall where and when and who, looking for clues as they talk, but finally has to admit that she just cannot remember him – at the same time confessing that she often drinks too much. Is this a clue to later developments?
As the conversation progresses Sally begins to feel uneasy as she is complimented on her appearance and is aware that she is wearing very little. She keeps mentioning that her husband will be arriving any moment, and when he does turn up it would appear that it is really husband Mark that Barrett wants to see. The Driscolls would like this boring little man to leave – "give him a drink and get rid of him" - but he is not going to go until his mission has been accomplished .and that is as much as I can tell you without giving away the plot, but Barrett's "Regrettably a degree of fear is a necessary part of our conversation" certainly adds to the suspense..
A splendid performance from Liza Goddard as Sally, well balanced by that of Martyn Stanbridge as husband Mark, while Ian Oglivy's portrayal of Barrett was so convincingly and unwaveringly in character it was hard to believe that he had ever played any other part.
Suffice it to say that this stylish production contains intrigue, mystery, tension, suspense and a few shocks. Add the ingredient of quality acting, a good script and Alan Cohen's tight direction and here is a enjoyable and exciting evening entertainment – but don't forget to lock your doors when you get home and be careful who is watching!
Continuing to Brighton and Richmond.
This review was first published in Theatreworld Internet Magazine
Reviewer: Sheila Connor