Dangerous Corner
J B Priestley
An Ian Dickens Production,
Yvonne Arnaud Theatre, Guildford, and touring
(2007)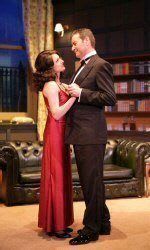 "You have a nice cosy little group," says Shirley Anne Fields's stiffly correct Miss Mockridge, surveying the assembled company. Little did she know what was about to be revealed, but happily she soon left the gathering and kept her illusions intact.
Already an experienced writer, this was Priestley's first play, written (according to the programme notes) in one week as an experiment to prove he could do it, and it could take a week to unravel the complications of the plot and characters. Concentration is necessary, and the audience gave it their complete attention, their silence only broken by the occasional laugh or gasp as events unfolded.
In a large, comfortable drawing room in 1932, four elegantly attired women are chatting while their men folk can be heard in the next room enjoying their after-dinner brandy. A simple domestic scene until a gunshot from the next room causes consternation, but the men arrive laughingly apologetically – a complete accident, nothing to worry about and they continue their conversation.
One of the women is novelist Olwen Peel and they discuss her latest book, "The Sleeping Dog" – 'dog' in this instance equating truth, and is it not better to let it lie!
Revelations begin, however, with the opening of a musical cigarette box, sparking off a few questions and leading to Tony O'Callaghan's Robert determined to interrogate everyone about the theft of £500 from their firm and the subsequent death of his brother who is believed to have stolen the money and then shot himself. He won't leave the subject alone, obstinately after the truth, and what a bag of worms he uncovers. Their "cosy little group" is not so cosy after all and this must have been quite a shocking play in the thirties covering infidelity, adultery, homosexuality and narcotics – not to mention a suicide, or was it murder?
With most of the same cast and creative team as the recent production of Signpost to Murder (how do they turn out so many so quickly?) this is a much superior production with its intricate storyline revealing facets of the seemingly ordinary characters and the twists and turns of the plot – a surprise around every corner! In Priestley's words, "An ingenious box of tricks".
With the benefit of a better script, the cast of Signpost were here much more credible. O'Callaghan is again given to bursts of anger, appropriate for the character. Nicola Wheeler's Olwen has plenty of dramatic moments, and Peter Amory is outstanding as the cool, calmly casual Charles Stanton, who is probably responsible for the whole situation.
Costumes by Carole Shaw were delightful (sorry I can't say the same for the wigs) and director and producer Ian Dickens kept the action moving speedily along.
But what if just one little incident is changed? The whole course of their lives could be completely different. This being the first of Priestley's 'time' plays, at the end of the second act there is again a gunshot from the next room and we start the play again at the beginning, but this time with a tiny alteration leading to a very different ending, the conclusion being that "telling the truth is about as healthy as skidding round a corner at sixty". A unexpectedly entertaining evening of intrigue and suspense.
Touring to Worthing, Darlington, Lichfield, Leeds Swansea, Colchester, Cheltenham, Stevenage, and Salford.
Reviewer: Sheila Connor