Daniel Defoe – The Lockdown Diaries
Susanne Hawkes
Black and White Productions
Greenside @ Riddles Court
–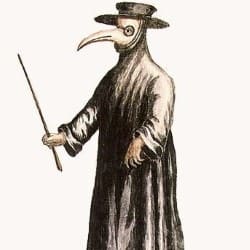 In 1664, the British people were thrown into an unprecedented situation when an outbreak of a foreign-brought plague forced the city of London into a lockdown, as the citizens fled, or hid in their homes. So far, so apt, as the situation is so relevant to recent history.
Black and White Productions has drawn the comparison even closer by adapting Daniel Defoe's A Journal of Plague Year (aka A Journal of the Plague Year: Being Observations or Memorials, Of the most Remarkable Occurrences, As well Publick as Private, which happened in London During the last Great Visitation In 1665) to the Festival Fringe stage in a somewhat abridged fashion.
Thomas Haigh stars as Defoe, scribbling away at his writer's desk as he notes the events occurring around him, while lamenting the lack of progress on Robinson Crusoe. We learn much through Defoe's largely apocryphal account of the horrors of the London plague, touching on many aspects of humanity, along with various colourful personalities he encounters, each of whom has a new and different take on the material, tying it firmly into the obvious correlations toward the COVID pandemic, but also showing in great depth the humanity and kindness, as well as the human spirit showing through the horror.
Comparisons that are made between the government's failures to act and the instinctive need of people to break the rules at the moment of the easing of restrictions tie nicely into the theme. The play does, however, shunt along in fits and starts. Although it's an entertaining piece, it feels clunky rather than smooth, with an ending scene that feels rather too long and tacked on, feeling much like a bunch of disparate scenes rather than a cohesive tale.
It's fun and arguably a less arduous experience than reading the original tome, but certainly this is a piece that could use some polishing around the edges and perhaps a clearer dramatic through-line could be woven, even at the expense of straying further from the source material. Nevertheless, it's a keen reminder that people have ever and likely will ever be the same, no matter the age, and the plight.
Reviewer: Graeme Strachan