Daniel Piper's Day Off
Daniel Piper
Daniel Piper
Underbelly, Cowgate
–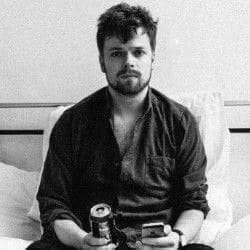 With music pumping and a drunk Daniel inviting people back to his place to party, it seems clear as to where this comedy about an epic hangover is heading. And yes, while he does wake up to regret his actions, that's only really the beginning of his story.
Daniel Piper's Day Off is downright funny but it's also surprisingly touching as he yearns to find himself and something exciting to fill his time with. In his cluttered bedroom, he (Daniel Piper, character and actor) chats casually to the audience, even referencing the fact that they are non diegetic, as he tries to make a decision about whether to take the day off.
This leads to dancing, singing, Googling, a mini-existential crisis, answering the phone with a mouth full of Quavers and general avoidance of the slow, creeping guilt that taking the day off is just not the done thing.
Piper's performance is engaging and paced perfectly to elicit laughs, sympathy and even advice. Wisely written, just as the scenario begins to drag, a neat conclusion ties up the loose ends and leaves it to the moral code of the audience to decide what they'd do in that situation.
In turn cringeworthy, awkward and hilarious, Daniel Piper's Day Off is a portrait of an all too real character who desperately wants to find his wicked side. A perfect Fringe pick-me-up.
Reviewer: Amy Yorston