Dark Carnival
Matthew Lenton (script), Biff Smith (music, lyrics)
Vanishing Point, Citizens Theatre, Dundee Rep Ensemble
Traverse Theatre, Edinburgh
–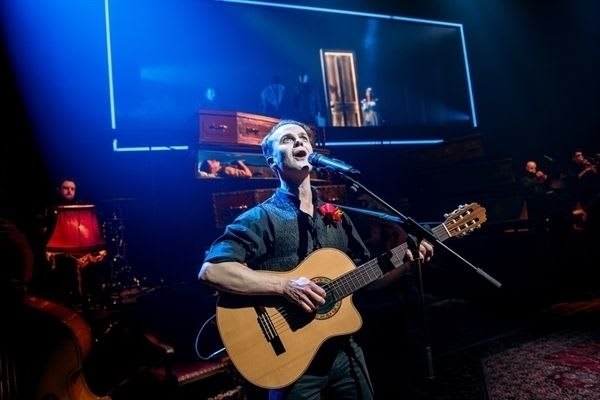 In other less reserved countries this week, Mardi Gras is celebrated with a carnival, but those hoping for a joyful evening may be disappointed as this show about death draws more on Día de Muertos (Day of the Dead) than Carnevale.
Our guide, our Virgil welcoming us to the underworld, is Narrator (Elicia Daly), straight-forward, down-to-earth with the air of a cheerful Aldi checkout girl. The Narrator humorously reminds some people why they are now dead, an introduction that contrasts nicely with the macabre set of coffins, some revealing pale corpses inside.
Kenneth Macleod's design fits perfectly into the subterranean space of Traverse 1, creating an underground cavern filled with coffins for band A New International to fill with their charming tunes. Macleod's set has more than one level as we discover during the show.
The opening has several of the actors illuminated horizontal in the coffins, which they make use of during the show. It is a smokey, seedy, grimey area with the band reflecting this in costume and behaviour. However, above the coffins in a neon rectangle is a cinematic view of the world above.
Dark Carnival mixes theatre and music, story and song, but also the dead and the living. Down below, Mrs Eugenie Mark (Ann Louise Ross) and Major Montgomery Toast (Harry Ward) look after Young John (Malcolm Cumming) while above, Old Peter (Peter Kelly) still visits John's grave.
This mix of the two worlds, not to mention the gig / theatre worlds, is one of several elements that make the show. A whole play set in a crypt might be a bit too dark, although perhaps unsurprisingly the characters down below seem to be having more fun than those up above, mostly thanks to the other element that really makes the show, the songs and performance by A New International in gothic garb fronted with devilish glee by Biff Smith, who also wrote the songs and lyrics. Their music is catchy, while the lyrics can be quite dark and they look fantastic to boot.
There is a clever weaving of different storylines and themes mainly focusing on John and Peter's thwarted relationship, but also a satirical thread concerning Heaven and explaining why the characters down below are in a kind of limbo. Heaven as a thinly veiled parody of certain current political situations in the world.
The only improvement would involve the length; not that the show was too long, but it was a little too long not to have an interval. In fact with an interval, it could have gone on longer and perhaps expanded on some of the characters, Mrs Eugenie Mark for instance—Ross's acerbic character deserves a bit more material.
Overall, a superbly realised, haunting tale of the underworld and the people who live in it—as A New International's song calls them, Necropolitans. This is like descending under the Necropolis in Glasgow to discover a weird but exhilarating cabaret club.
Reviewer: Seth Ewin