Dark Spirits, Black Humor: A Night of Cocktails and Storytelling
Mark Jude Sullivan
InHouse Theatre
The Wolves bar, downtown Los Angeles
–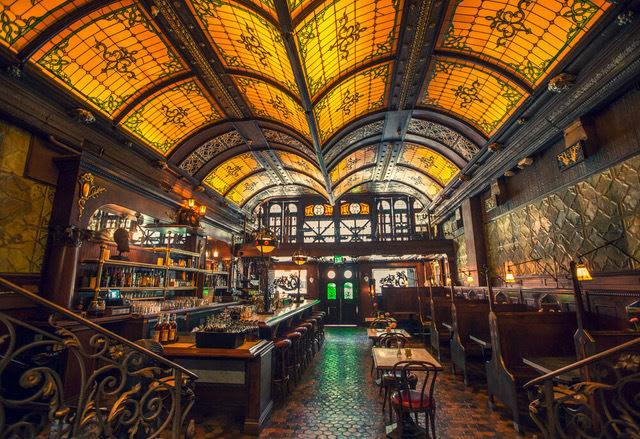 Los Angeles-based immersive and site-specific company InHouse Theatre is live-streaming this hour-long performance every Sunday and Wednesday evening in August over Zoom from the beautiful surroundings of The Wolves bar in downtown LA.
Our genial host is barman Mark Jude Sullivan, also the writer, who gives us a warm welcome leading into a demonstration of cocktail making. He makes a Rusty Nail, weaving stories about the nature and history of all of the ingredients—although absinthe and rosemary don't appear to be listed by the International Bartenders Association for this particular drink. He then joins us on our side of the bar to begin his story.
He is really an actor (obviously—he's a barman in LA) and tells us about the time he was asked to step into the role of Claudio in Measure for Measure in a cast headed by famous Irish actor James Finnegan, or 'Jimmy'. Jimmy believes that his great talent came from a faustian bargain he made when he was a young actor in a Kit Marlowe play at the Abbey Theatre in Dublin, but he also haunted by the accidental death of his son, who would now be about the age of our storyteller, some years ago in a boating accident. Our host is also grieving after the death of his father.
What begins as a story of support and mentorship between a young actor at the start of his career and an older one getting towards the end of his turns into something that could easily be straight out of M R James, as they are both haunted by the subjects of their grief—actually or psychologically; it's up to you to decide—and Jimmy may end up passing more than just verbal advice on to his young protégé.
Sullivan is a very charismatic storyteller who draws you into a tale that weaves convincing portrayals of grief and depression into his (possibly) supernatural tale. It is tightly directed by Elizabeth Schmidt, with Todd Sandler as co-director and also co-designer with Daud Sani.
This would be a very agreeable way to spend an hour later in the evening in an Edinburgh Fringe venue, and it works almost as well watching from home, especially if you make the effort to line up a cocktail or two for while you listen to the story.
Reviewer: David Chadderton