His Dark Materials
Based on the trilogy of novels by Philip Pullman, adapted by Nicholas Wright
Birmingham Rep and West Yorkshire Playhouse
The Lowry, Salford, and touring
(2009)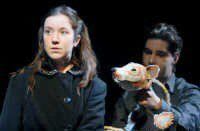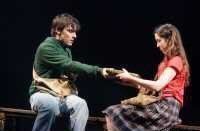 Nicholas Wright's adaptation of Philip Pullman's fascinating trilogy of epic stories that successfully crossed over between children's and adults' fiction was originally written for a huge, spectacular production in the Olivier in London's National Theatre which used the unique facilities of that theatre and the budget, cast, crew and production team that only the National can assemble.
This multi-faceted tale spanning three large books has been reduced to two linked plays of around three hours each including intervals. With nothing like the resources available to the National even for a resident production, it was a brave and exciting choice for Birmingham Rep and West Yorkshire Playhouse to put together a touring production.
Lyra Belacqua lives at a college in Oxford, but her Oxford is in a parallel world to ours where every person has a 'daemon': a real manifestation of a person's soul or spirit in the form of a talking animal. This is also a world ruled strictly by a religious authority where speaking about forbidden subjects can be dangerous – even fatal. Lyra's uncle, Arctic explorer Lord Asriel, comes to the college to talk about 'dust', which seems to be a magical, invisible property that people gain during puberty, but then children are kidnapped and experimented on to see what happens when they are separated from their daemons. Much later in the story, Will Parry, who lives in our Oxford, finds his way into Lyra's world, and they become closely linked in helping one another, only to be torn apart again.
There is so much plot and depth to this story that it is impossible to do it justice in a summary, but Wright's adaptation does try to cover almost everything in the books, which is part of its problem. Stripped of the spectacle of the original production, the script's flaws become more exposed, including some clumsy exposition, scenes that get bogged down in wordy explanations of background plot and confusing jumps with insufficient explanation or time for scenes, characters and relationships to develop. This does improve in part two, when scenes are allowed to slow down and develop much more.
The production itself is partially successful. The pace is mostly good and it succeeds in drawing the audience into the story and keeping their attention and sympathy for the characters, which is, in itself, an achievement for such a long and complex piece for an audience containing a lot of parties of young people and makes it worth seeing. However, even allowing for the simplicity of the staging, there is much that seems poorly- or partially-conceived.
Some of the simple staging, designed by Ruari Murchison and directed by Rachel Kavanaugh and Sarah Esdaile, works well, such as the nice use of heavy wooden chairs and tables. The fights, directed by Kate Waters, are not very convincing and some are a bit messy. There are some issues not dealt with satisfactorily, such as when groups of people appear onstage with no daemons peering unconvincingly inside their jackets from time to time as though they were concealed there. I heard sniggers from a school party behind me every time the witches were wheeled in on their librarians' ladders, which was understandable as they did look a bit silly.
The puppetry used for the daemons works well with some nicely-designed puppets from Mark Down and Nick Barnes of Blind Summit Theatre. In particular, Gerard Carey brings warmth and humour to Lyra's daemon Pantalaimon, Ben Thompson makes Mrs Coulter's golden monkey daemon frightening and violent and Josie Daxter gets a great deal of humour from Hester, Lee Scoresby's hare daemon. The armoured bears are less successful; whilst they are superficially similar in concept to the ones used in the original production, they are not as impressive or intimidating. However these also come across much better in the second part when the extended scenes allow Geoffrey Lumb to develop Iorek Byrnison into a majestic character and the bear movements, from movement director Toby Sedgwick, are given space and time to be effective.
Amy McAllister is superb in the huge central role of Lyra Belacqua and is the only one who is really convincing as a child. Nick Barber is also excellent as Will Parry once his story takes off in part two and once you get used to the fact that he looks far too old. John Hodgkinson is suitably commanding and off-hand as Lord Asriel, but his Lee Scoresby doesn't come across as kindly as he should and his Texas accent isn't great. Charlotte Asprey gets across the conflict between her motherly feelings and her desire for power reasonably successfully. There are also strong performances from Christopher Ettridge as Lord Boreal, Ian Conningham as a sinister Fra Pavel and others, plus a superb and funny double act from Ben Thompson and Daniel Brocklebank as camp angels Balthamos and Baruch.
Pullman is a wonderful storyteller, and his epic trilogy, rightly acclaimed widely, is really a coming-of-age story writ large that takes on spirituality, politics, organised religion, quantum physics, philosophy, death, folklore and pretty much anything else important to human culture and existence. Wright has made a brave attempt to cram all of this into a mere six hours of theatre that leads the audience into the story successfully but falls into a lot of the classic traps of novel dramatisation. Kavanaugh and Esdaile's production holds the attention and moves along at a good enough pace to make it worth seeing, especially for fans of the books, but seems as though it needed a much longer period of development and rehearsal to sort out the problems and really come together, which may be difficult to achieve financially with a production on this scale and with this size of cast.
This production was also reviewed by Ray Brown at the West Yorkshire Playhouse, Leeds.
Reviewer: David Chadderton