The Dark Things
Ursula Rani Sama
Traverse Theatre, Edinburgh
(2009)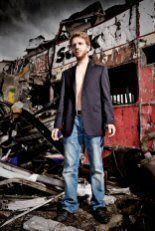 While the video and art installation efforts were a little half-hearted, the emotional content of the piece is tackled full-on by the actors especially the lead Brian Ferguson.
Ferguson, as Daniel, an artist who survives a catastrophic bus crash unscathed, is an arresting mix of vulnerability and confusion as he attempts to deal with the aftermath of the accident.
The accident brings him in contact with two other complicated characters, LJ (Suzanne Davidson) the accident's only other survivor and Gerry, a psychiatrist with a murky past.
Daniel heads to Gerry to solve his problems, but Gerry just creates more. LJ, who has lost her lower legs in the accident, is actually more help to Daniel and also the most entertaining of the characters.
Davidson gave a great performance as the mouthy lap-dancer now out of a job, bitter and unrestrained but still quite likable.
The interaction between Daniel and these two other damaged souls as they fail to stop their lives unravelling is strongest part, the side plot of Daniel's half sister is less fulfilling.
Steph is well played by Nicola Jo Cully, but the character is stuck in the somewhat clichéd scenario of a naive obsession with achieving fame preferably on the television, leading her to be duped by creep Karl (Keith Fleming).
Despite the strength of Davidson's acting, the ending is less moving than it could have been, unimaginative and rather over-reliant on video.
Reviewer: Seth Ewin