Billionaire Boy
David Walliams, adapted by Neal Foster
Birmingham Stage Company
Curve Theatre, Leicester
–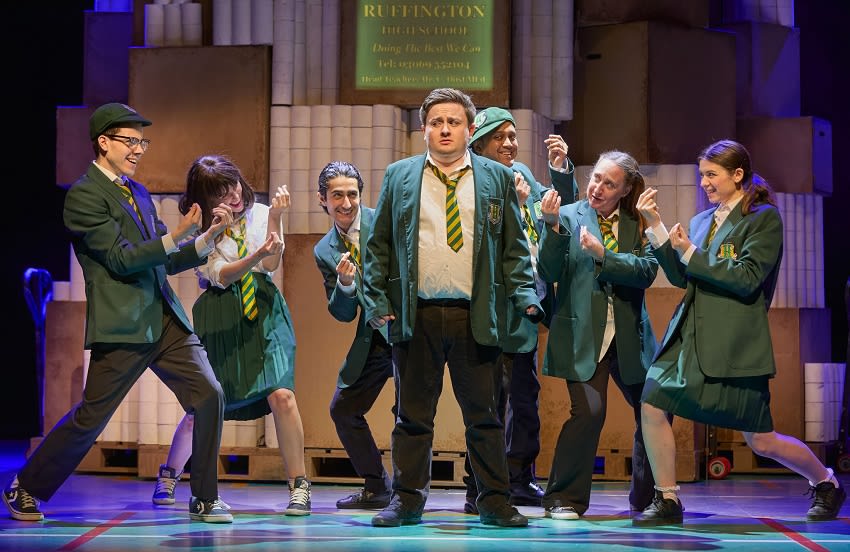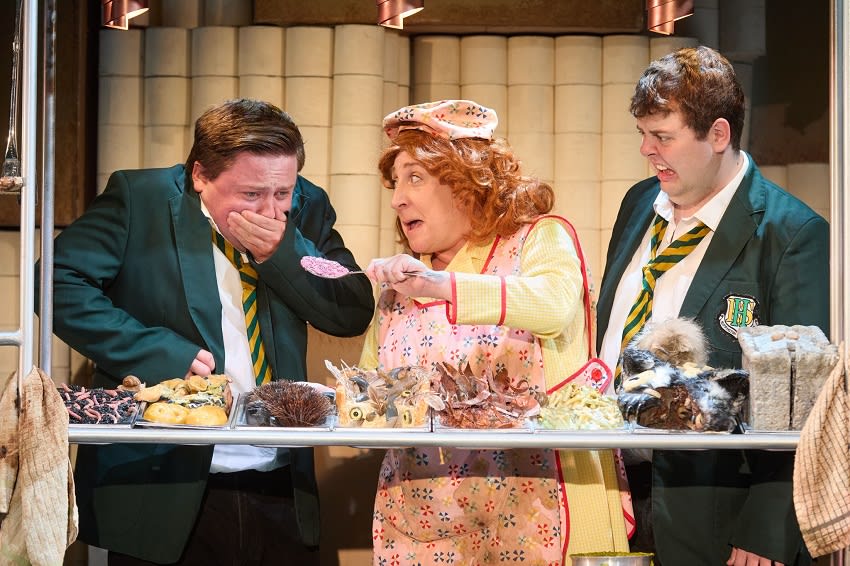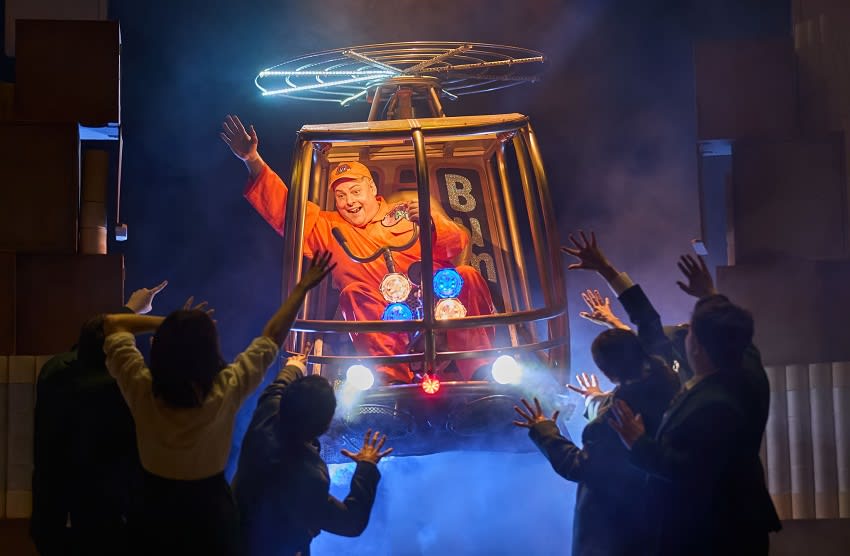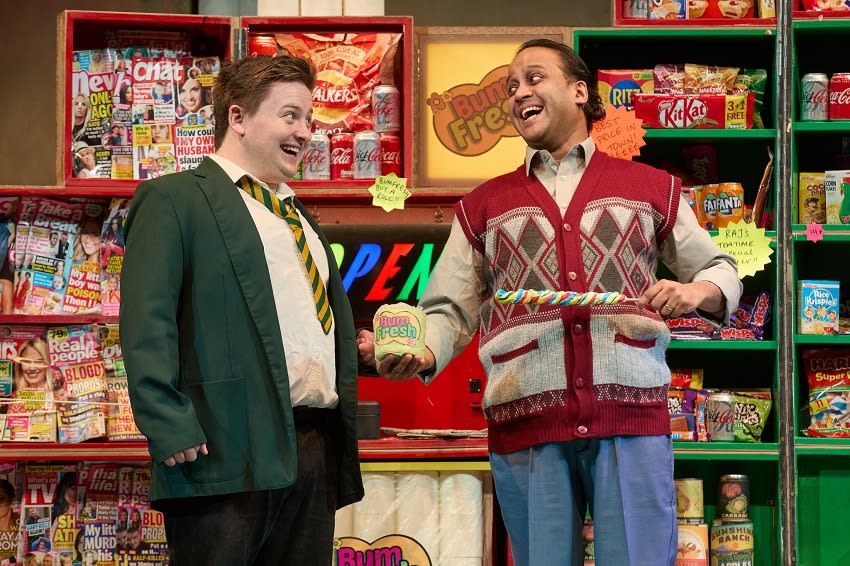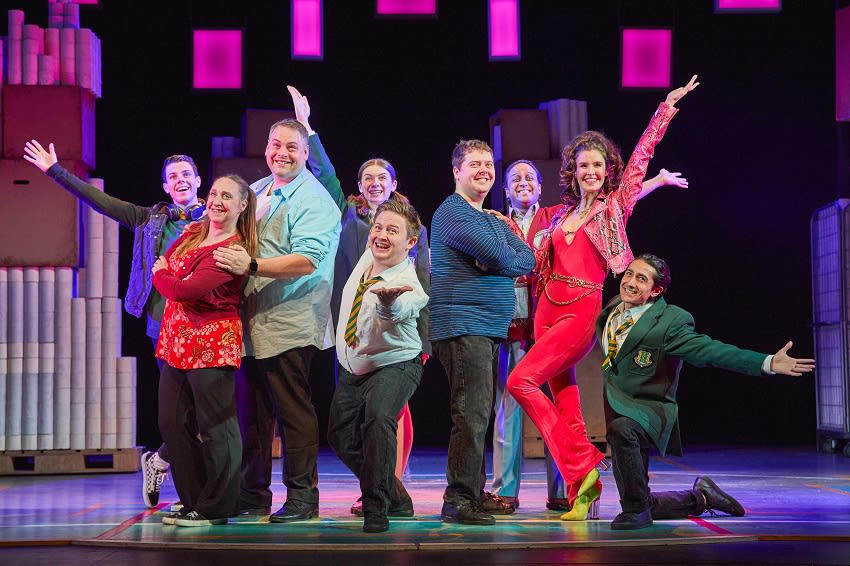 Some get a little sniffy about David Walliams's books for children, that they are Roald Dahl-lite and question whether they would have been published were it not for his fame as a comedian. What can't be disputed is the sheer volume of sales: over 45 million books worldwide. And here's a phrase for our times from the programme: "David's publishing has evolved into one of the biggest multi-media entertainment brands in the UK today".
Billionaire Boy, a theatrical strand of this branding and the third of Walliams's books to be adapted by the Birmingham Stage Company (as well as a nominee for Best Family Show in this year's Olivier Awards), is currently on tour in the UK.
As with the company's previous productions, Neal Foster adapts and directs and there is much fast-paced energy keeping the story going throughout.
Joe Spud (Matthew Gordon) is a poor little rich boy—his dad Len (Matthew Mellalieu) made his fortune with his innovative Bumfresh toilet paper range and they can now buy anything they want. Except Joe wants a friend and feels he would do better swapping his posh school for the local "comp" and not let on about the family pile.
Meanwhile, Dad is back in the dating game with a collection of wigs to try and look younger, and has secured the attentions of Sapphire (Rosie Coles). At Ruffington High School, Joe meets Bob (Jake Lomas) and they become friends, only for Joe to use his money to buy protection from the infamous Grubb twins. Run-ins with dinner lady Mrs Trafe (an excellent Emma Matthews), corner shop owner Raj (Tuhin Chisti) and new kid on the block Jayden (Matthew Chase) all help Joe on his journey to redemption, and the realisation that money can't buy you happiness, or friends.
Apart from Gordon (with a charming performance as Joe), the cast perform multiple roles with panache, from down-to-earth dinner lady to classmate to teacher, with lightening quick costume and set changes. Jacqueline Trousdale has created a nicely adaptable set of a palace of toilet rolls with hidden compartments which open out into Raj's corner shop, a park, a grand dining room and classroom. Dad's "bells, lights and whistles" helicopter also makes an impact.
Action is aided by a handful of fun songs, although it is a shame some of Foster's lyrics get lost in the sound balance. The recorded track seems too loud and for songs with complicated lists of unusual words, the lyrics are the casualty. Much better is the song of teachers' catchphrases (with a more minimal backing track); the sneering patronisation of "it's not my time you're wasting" and "would you do that at home" is fun and relatable to all.
The target audience (young people in their primary school years) seem to enjoy themselves, and we have a sure-fire comedic winner in the umpteen poo, toilet and toilet paper jokes. However, more could be made to encourage the audience's engagement with the whole show. There are chunks of exposition, particularly in the first act, with matters livening up briefly towards the end when we are invited to clap along with a song.
A review of some dated stereotypes and references would also not do any harm, and while there are laughs, they aren't of the belly variety.
Joe and Bob's heart-warming relationship is the saving grace here, and matters come to an emotionally satisfying conclusion.
Fans of Walliams's books, and indeed, children from five to tweens will enjoy this exuberant production, with moments for adults too.
Reviewer: Sally Jack