Daylight Robbery
Micheál Jacob
24:7 Theatre Festival at New Century House
–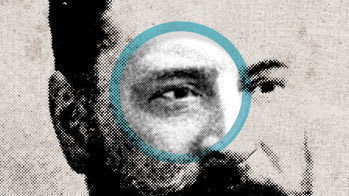 Crime writer Ian Rankin recently announced that he was working on a detective script for the stage as there don't appear to be any around. The Agatha Christie Company and the producers of The Mousetrap may dispute this, but Micheál Jacob has beaten him to it with this fictional story based on a real-life police detective from Victorian Manchester, Jerome Caminada.
An interesting idea for the first play by this former BBC script editor and executive producer, but a play that opens with a policeman turning to the audience and saying "evening all" doesn't inspire much hope for a great deal of originality.
It all starts, like the film of Sleepy Hollow, with a body found in the canal which the radical detective wishes to investigate forensically. There is a Sherlock Holmes moment as Caminada identifies the origin of a suit at a glance, the cast of various Dickens novels is questioned one by one and, of course, the crime is solved at the end.
I honestly couldn't follow the plot at all, and so there was no enjoyment for me of trying to solve a puzzle. The characters are thinly-drawn and clichéd, and so it is difficult to care about any of them. The writer has put his research on show with gratuitious references to the period, such as when the Chief Constable declares he is going to dine with C P Scott of the Manchester Guardian.
This isn't helped by a production that has no sense of pace or structure and which is very mis-cast, as half of the actors clearly lack the experience, training and range to create these multiple characters effectively. Even the more experienced performers—Francesca Waite and Kerry Lorenza-Bennett stand out particularly—struggle to differentiate between their multiple roles as they aren't given much character by the script and their single costumes are too distinctive to make it clear when they have changed character.
Neither the script nor the production are up to the standard we have come to expect from 24:7, and it makes one wonder how this slipped through the net to be offered a full production when some others were only offered a rehearsed reading.
Reviewer: David Chadderton