Days of Wine and Roses
J P Miller, in a version by Owen McCafferty
Lyric Theatre, Belfast
(2007)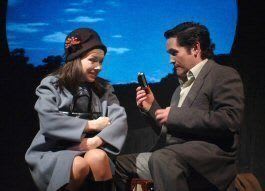 Belfast's sole producing theatre the Lyric must have has often seemed to be a cold house to the city's up and coming dramatists with playwrights as distinguished as the late Stewart Parker looking to Dublin, London or one of Belfast's fringe arts centres for their first nights. In part that was due to self-imposed political constraints mixed with a stubborn determination to resist change.
But, hopefully, under the new team of Executive Director Michael Diskin, late of the Galway Arts Festival, Chairman Mark Carruthers of the BBC and Fundraiser-in-Chief Professor Sir George Bain, till lately Vice Chancellor of Queen's University, this may be the last time the venue's ever-loyal Laganside audience will have to wait a year for a play by Owen McCafferty to reach his home city after its triumph at London's Donmar Warehouse.
That ritual observation out of the way its time to welcome the Lyric's most accomplished production for many a year. Directed with consummate fluidity by former Belfast Civic Arts Theatre supremo Roy Heayberd, McCaffrey's relocation of the core of Miller's original sweet and sour dissection of the breakdown of an alcohol-sustained marriage from America to the London of the 1960s, is as good as the Lyric gets.
In essence it is a love story and where, in the movie Jack Lemmon and Lee Remick were slick and brittle, McCafferty's two Belfast emigrants, Donal and Mona, an overconfident bookie's clerk and an unfathomable lower rung civil-servant, are, in turn, confrontational and whimsical.
Boy meets girl at the airport where he offers her a nip from his hipflask, a nip she refuses only to down the lot when he's out of sight. The rest, the mutual retreat into perpetual drunkenness, he arguing he has to drink to keep his job, she countering she has to drink at home to be level with him when drinking friends arrive, is well known.
Yet when Mona spirals disgustingly into the gutter as Donal seeks the AA, her proposition that he can only prove his continuing love for her by taking a drink and physically making love to her, becomes, in the play's most disturbing scenes, an ethical dilemma of weighty proportions.
Never in the shadow of the movie, McCafferty, in his wit and his empathy with both lovers and drinkers, is his own man, in this case a man well served by Conleth White's period movie lighting, by Rod McVey's 60s hits-mix and by Sabine Dargent's cool period design of Habitat furniture, miniskirts, kooky raincoats, sliding dark wood panels and a back drop of ever shifting images and graphics of the icons of the age.
As Donal, in his off-Carnaby suits, Fergal McElherron delivers with the energy and passion he first promised in McCafferty's Mojo Mickybo. But the hats, in the end are doffed for Gemma Mae Halligan's Mona, in her confident and many-layerd delivery of McCafferty's most original creation, a delivery made all the more remarkable by the revlelation that this is, de facto, her first major role on the professional stage.
Until 28th May
Reviewer: Ian Hill