Daytona
Oliver Cotton
Lee Dean and Jenny Topper
Lyceum, Sheffield
–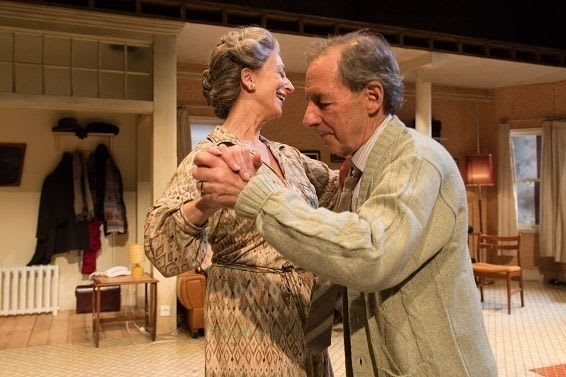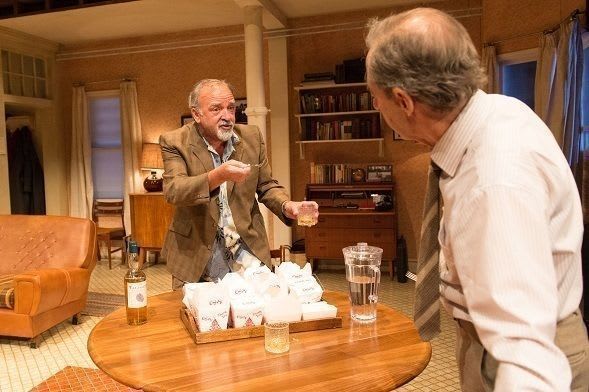 The title of Oliver Cotton's play refers to Daytona Beach in Florida, the 'sunshine state', which attracts vast numbers of retired and elderly people to over-winter in the warmth or set up their final home in "God's waiting room". Consequently, "Florida has the densest proportion of senior citizens in the United States, with three million of its 19 million residents aged over 65"(programme note).
By contrast, the action of the play takes place in Joe and Elli's two-bedroom apartment in Brooklyn, a predominantly Jewish area of New York, where they pass their time in mild bickering and their current enthusiasm for ballroom dancing. When we first meet them, Joe and Eli, both over 70, are practising for a competition the following evening, and Elli is about to rush round to her sister's to collect a new ball gown.
Into this relatively calm haven of familiar domesticity bursts Joe's younger brother, Billy, who they have not been seen for 30 years, with a shocking tale to tell of vengeance and retribution against a violent and cruel concentration camp guard, who all three have suppressed from memory for half a century.
In the second act it becomes clear that this is not simply a play about revenge, but more concerned with tangential issues, like the nature of memory, missed opportunities for action, cowardice in failing to seize the moment, and regret. Billy's account of the shocking incident on Daytona Beach acts as the fulcrum for other more domestic memories of moral cowardice, of failure to act, the suppression of memory and attempts to re-invent the past. After all, while people in retirement have plenty of time to reflect on what has gone before, it is unusual for an elderly person like Billy to have a second chance to put things right.
Oliver Cotton is an experienced writer for the stage, film and notably television, as well as being an actor himself. He has provided a well-structured, eloquently-voiced, realistic play, reminiscent of the well-made plays of the late 50s, which provides an excellent vehicle for the talents of the trio of mature actors.
Maureen Lipman gives a sensitive and thoughtful performance as Alli, and Harry Shearer as Joe acts as a necessary foil to the exuberant John Bowe, who gives a stunningly energetic, physical performance as Billy, doing full justice to the quality of the writing.
Ben Stones's set summons up a rather shabby Brooklyn apartment, provides an effective backdrop to the action and space for the occasional ballroom dancing. David Grindley directs the experienced cast.
While the play will have undoubted appeal to audiences of a certain age who recognise and are familiar with the actors and whose work they will have enjoyed in other contexts, the themes are likely to be of less interest to a younger generation. However, it is always a pleasure to watch performances of undoubted quality, and it is important that there are vehicles which provide opportunities for mature actors and reflect mature relationships.
Reviewer: Velda Harris