Dead Dog in a Suitcase (and other love songs)
Carl Grose, music by Charles Hazlewood
Kneehigh with Liverpool Everyman & Playhouse
Shoreditch Town Hall
–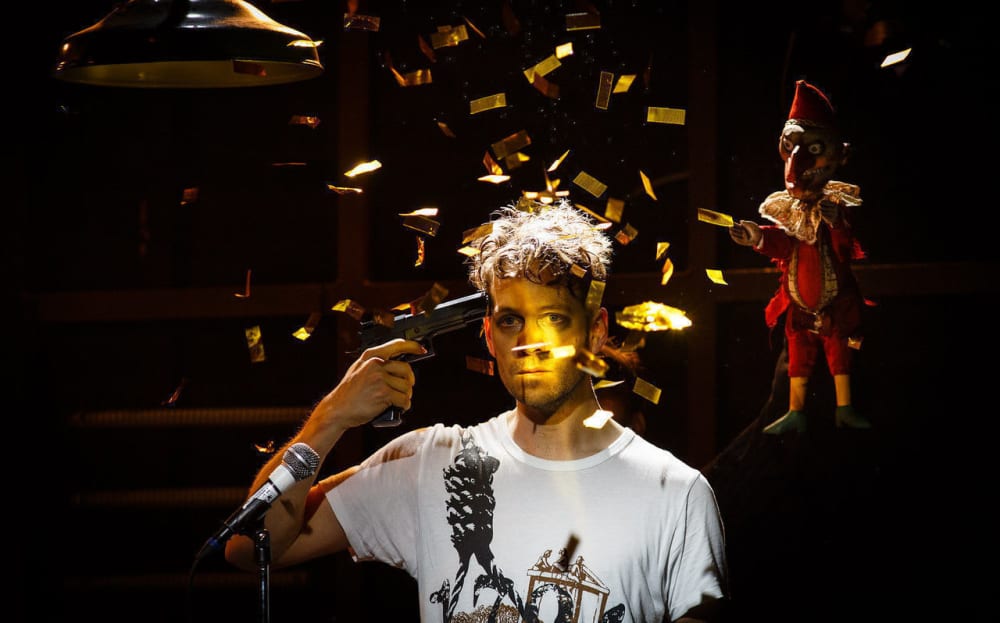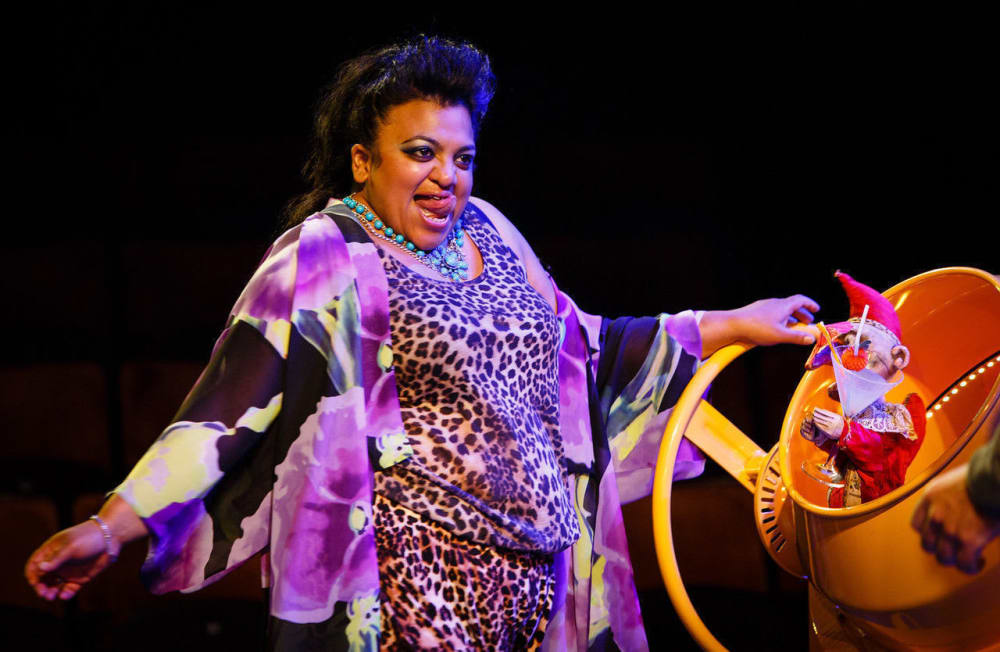 Kneehigh describe this as "a new Beggar's Opera for our times." Carl Grose has reworked the bare bones of John Gay's plot turning highwayman Macheath into a contract killer (the dead dog is one of his collateral victims).
Charles Hazlewod has followed Gay's method of appropriating popular music sometimes, as he puts it, "bent and bastardised originals" that range from Ian Drury and Madness to more recent genres, sometimes new songs of his own as well as a couple of airs from the eighteenth century version.
The result is a rip-roaring romp. The spanking pace at which director Mike Shepherd drives it is aided by Michel Vale's multi-leveled set of wheeled platforms, open scaffold backing, with a chute and a fireman's pole to speed movement.
It's not the songs but a Punch and Judy show that provides a sort of Brechtian commentary on the action, emphasising what is surely already obvious but definitely a highlight of the production along with the rest of the puppetry (led by Sarah Wright and designed by Lyndie Wright of Little Angel): there is a bevy of babies all claiming Macheath as papa and the decaying dog is buzzing with flies.
Dominic Marsh as Macheath starts things off leading the opening introduction of characters, charmingly charismatic. He may be a double-dealing, self-centred, cold-blooded killer but still seems a likeable rogue until well after the interval.
Fishy Les Peachum, with business interests in mackerel and concrete, and his even worse wife are the real baddies. He fancies being mayor but current holder Mayor Goodman (Ian Ross) is likely to be re-elected so he pays Macheath to get rid of him—that's when his dog also gets it.
Martin Hyder plays Les as the confident big boss but it is Rina Fatania's scabrous Mrs Peachum who is the worst of them. She's a consummate comic and makes her hilarious but you wouldn't want to get on the wrong side of her. How come they have such a seemingly innocent daughter as Angela Hardie's Polly who gets secretly married to Macheath?
In Peachum's pocket is police chief Lockit (Giles King) whose daughter Lucy (Beverly Rudd) is pregnant and expecting Macheath to marry her.
Polly packs her bags to elope with her new husband. Peachum's errand boy Filch (Jack Shalloo) has a case full of bribe cash and Goodman's widow, the only one on the real straight and narrow, is carrying the dead dog around in another—of course the cases are all identical and soon you don't know who has which one. Some of the plotting is equally muddled but an audience having a good time doesn't care, the show bombards them with loud music and comic capering.
Etta Murfitt is responsible for some comic choreography, especially a shimmying Jack Shalloo in a nightclub number, and perhaps for the controlled way he gets beaten up by Mrs Peachum.
Dead Dog in a Suitcase is a theatrical tour-de-force that builds to a hurricane climax with everyone, actor/musicians and technicians, feeding in energy, but having first opened last year and having toured for three months before this London showing they should have found ways of singing into a microphone and using a loudhailer that allowed the words to come over intelligibly: large parts of the numbers are incomprehensible.
Kneehigh set out to recreate The Beggar's Opera for the 21st century. They have certainly given it a modern noise level and an exuberant theatricality but they haven't echoed the original satirical impact that Gay made.
This is about general creed and corruption; Gay had specific targets, not least Prime Minister Walpole. Who is under fire here? He contrasted wealth with beggary: in our world the gap between haves and have-nots is getting ever wider. Here there is cash for killing and bribery but where's the link to corporate behaviour and the banking system, and aren't present problems much more international?
Dead Dog in a Suitcase is great fun but not politically pointed or remotely subversive. Its final message is "That's how it is." We hardly need to be told that!
In the programme, composer Charles Hazlewod suggests that down the years Gay's ballad opera has "lost its teeth." With Carl Grose, he may have given it new ones but whom are they supposed to be biting?
Reviewer: Howard Loxton