Dead Men's Eyes
M R James
Nunkie Theatre Company
Tobacco Factory Theatre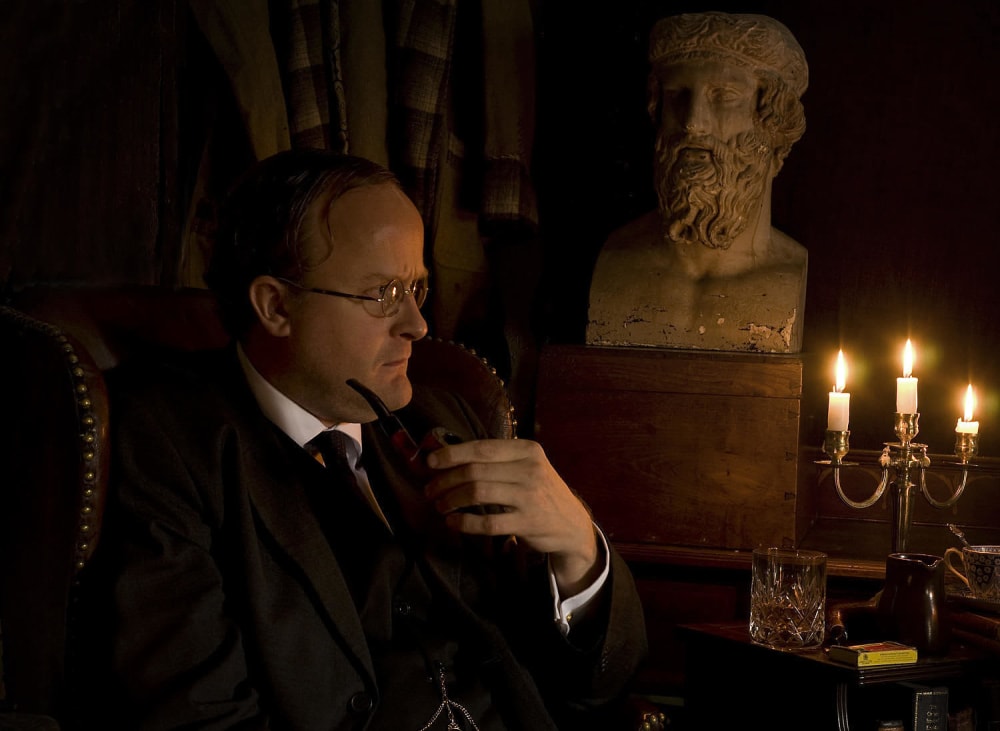 What better way to spend a dark gloomy late autumn night, than listen to some ghost stories from M R James? This is pure, old fashioned storytelling, guaranteed to give you goosebumps.
Sitting in for M R James is Robert Lloyd Parry. Seated in front of a jet-black backdrop on an upright chair next to a small cluttered desk with just a few flickering candles uplighting our narrator's face, Lloyd Parry relates his ghostly tales. Improbably resembling James in his Edwardian suit and small glasses at the end of his nose, the imaginary recreation of how James originally told his stories to his friends at Cambridge is complete.
In 2005, Lloyd Parry started what has become the M R James project with Nunkie Theatre. This is the 5th pairing of M R James original stories (the 6th pairing comes next week with A Warning to the Curious). This current production, entitled Dead Men's Eyes, is the retelling of two more M R James short stories, A View from the Hill and The Treasure of Abbot Thomas.
Sipping whisky from a heavy tumbler throughout, Lloyd Parry, seemingly effortlessly, takes on the parts of all the characters in each story himself, barely moving from his seat. Adopting different accents and facial expressions with barely a change in position in his chair, he narrates the stories from each character's point of view. Using no props or sound effects other than raising his voice and using the shadows from his candles, Lloyd Parry conveys the spine-chilling tales.
Nevertheless, the evening is not without humour. The characters are often stereotypes of personalities of the time. The cap-tipping Patten, the Squire, the visiting antiquarian scholar are characters straight from many film and television adaptations of the era. Despite the dark material, humour does come from observations of Edwardian manners. For instance, when a disembodied, rank, mouldering hand reaches out from the ground towards you, would it be bad manners not to reach out and offer to shake it? Not something you might immediately wonder in the same situation yourself perhaps. But for the turn of the century clubbable James, certainly something to be considered.
It's a great way to spend a night out at the theatre with a difference. Lloyd Parry returns with more tales next weekend, which seems a rather appropriate way to bookend Halloween.
Reviewer: Joan Phillips