Dead Ringer
Charles Ross
Ian Dickens Productions
The Haymarket Basingstoke
–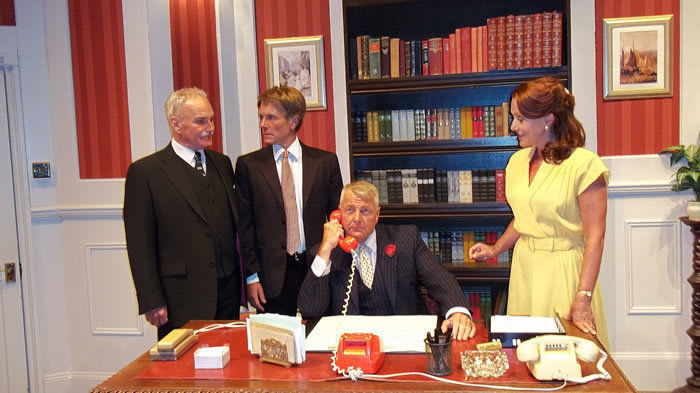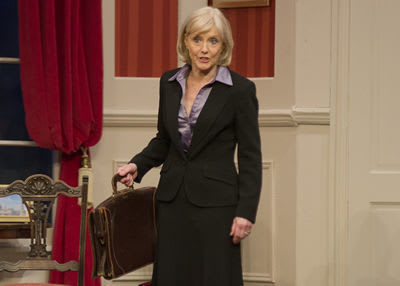 With the party political conferences in full swing, Charles Ross's clever, witty play Dead Ringer is most apposite. It's set in the highest echelons of power in number 10 Downing Street on the eve of the general election in the late 1990s.
As the play opens, the powerful Prime Minister Randolph Bolton is inspiring his ministers when he suddenly drops dead from an apparent heart attack. His cabinet colleagues are afraid that without his charismatic leadership the election may be lost and so they hatch an ingenious plot to cover up the death.
They hire an out-of-work actor Gerry Jackson, who is Bolton's doppelganger, to impersonate him until after the election. At first he is very nervous but soon warms to the part and relishes the role and is reluctant to give it up.
David Callister plays both parts to perfection as he settles into life at the pinnacle of politics. The conspirators are the Arts Minister Frances Cowdray (Belinda Carrol), who has constantly been overlooked for promotion and is anxious about the proposed re-shuffle, and the rather weak and bumbling Home Secretary Dick Marr (Keith Drinkel).
Bolton's arrogance and megalomania did not endear him to his inner cabinet and his deputy Ray Turnbull (Tony Adams) has a dark secret concerned with blackmail.
Even Bolton's wife, the charming Joanne Heywood, seems to be relieved that he has died as their marriage was an empty sham and she much prefers the jollity of her replacement husband.
Josh Hall plays the rather camp private secretary Nigel with aplomb who can't quite work out why his 'personal' attentions to the PM are being ignored.
All is going well with the deception until it is discovered that Bolton was poisoned and so the rather 'gung-ho' Colonel Hardacre from MI5 (Jonathon Morris) is called in to solve the murder and all of the cabinet are prime suspects as we discover that they all have a motive.
The second act becomes a splendid whodunit, a real murder mystery with a highly-charged denouement. It is also exceedingly funny with some wonderful one-liners such as, "there's more acting going on in Downing Street than at the RSC."
Alan Millier Bunford's period set has some lovely attention to detail such as the red hotline 'phone to the President of the United States and there are the constant chimes of Big Ben in the background.
Director Andrew Lynford ensures that the pace is maintained at a cracking rate. This is a highly enjoyable production that was enthusiastically received by the appreciative audience.
Reviewer: Robin Strapp