Dead Souls
Rodion Shchedrin, based on Nikolai Gogol's novel
Mariinsky Theatre
Mariinsky Theatre, St Petersburg
From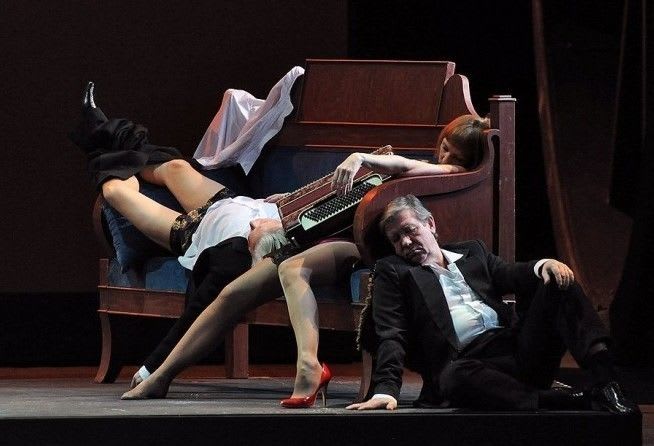 Dead Souls, Nikolai Gogol's epic poem in prose, was published in 1842, twenty years before the emancipation of serfs. The picaresque novel is a sharp satire on the plight of the serfs dying of starvation and disease whilst the corrupt drunken, cheating, gambling bourgeoisie remain indifferent to their suffering.
The novel was turned into a play by Mikhail Bulgakov in 1932 and into an opera by Rodion Shchedrin in 1977. The opera has not been seen outside of Russia so its appearance online is an excellent opportunity to see it at last.
Vasily Barkhatov's production, conducted by Valery Gergiev at the Mariinsky Theatre in St Petersburg, was staged in 2011 and filmed in 2012.
Dead Souls refers to the souls of dead serfs; but it also refers to the inhumanity of the landowner scoundrels who owned them. The opera opens impressively with the dignitaries of a town honouring Pavel Ivanovich Chichikov with an expensive meal. The voices and the facial expressions are perfect Gogol.
Chichikov (Sergei Romanov) ingratiates himself with everybody he meets on his journey, buying and selling dead souls of serfs. The more souls he owns, the better off he is socially and financially. The characters he meets are caricatures. The most arresting performance is by Sergei Aleksashkin at a podium declaring the whole town is driven by rogues.
The music is dramatic. The production is dramatic. The stage is framed with a gigantic pair of wheels. There are some striking images, notably a funeral in silhouette, a quarrel at a gambling table, and a high society ball at which everybody is dressed in white. But the opera is all bits and pieces, some better than others, which never quite gel to make a satisfying whole.
Dead Souls can be watched free on the EuroArtsChannel and is being revived by the Mariinsky this May.
Reviewer: Robert Tanitch