Dead Wright

Aireborne Theatre
Greenside @ Infirmary Street
–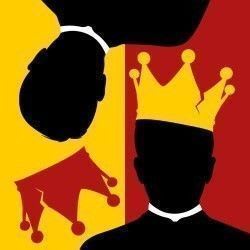 Aireborn Theatre knows a little bit about puttng on Fringe shows, so it's little wonder they've turned some of the stage knowledge into a production.
Dead Wright is a play within a play—or, more correctly, a play behind a play—set backstage and echoing the madness of a frantic stage production as the company tries to put on a pair of wildly differing plays simultaneously amidst a plethora of script changes, rewrites, role-swaps and other wild decisions from the dictator-like director.

What follows is a hectic farce as the actors' various rivalries, the theatre owner's alcoholism, the chronic jealousy of of the female actresses and the strange and suspicious actions of the director spiral both plays into a nightmarish calamity.
Dead Wright is a play that will certainly raise a chuckle from almost anyone. The performance is riddled with laughs and the cast are clearly having a great time constructing a situation that, whilst exaggerated, has its basis in many all too common theatrical situations. The onstage chemistry is great and the production never lets up the energy throughout.
The downside of this is that the overall plot is mildly confusing throughout, as the characters don't know what's going on and neither does the audience and, by the time the end comes, some may have lost patience and the stamina to bear it through the slapstick and silliness onstage.
If farce is your tipple, then it's certainly not going to disappoint.
Reviewer: Graeme Strachan