Dealer's Choice
Patrick Marber
Trafalgar Studios
(2007)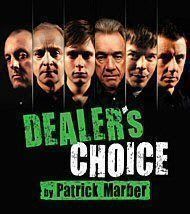 Mix life with a game and a social microcosm erupts, disclosing a fascinating insight into each of the six male protagonists of this gripping and challenging play.
The audience's presence is reflected at the outset on the backdrop of a wavy metallic- surfaced wall, creating an image akin to an impressionist painting. The change of lighting reflects different groups of characters. Samuel West directs this drama in masterly fashion, deftly responding to its depth, subtleties and humour.
It is Saturday night in Stephen's (Malcolm Sinclair) restaurant nearing closing time. The staff wait for the last customer to leave before they can participate in the weekly poker game. Sweeny (Ross Boatman), the chef, makes his intentions clear; this week he has resolved not to play. The money that he saved is to be spent instead on a zoo outing with his five year old daughter. The reluctant acceptance of his decision by the others is rapidly translated into a humorous yet subtle exercise in persuasion and peer group pressure.
Marber's dialogue is rich in colour and content, generating an interest in the characters from the outset. There is no particular focus on any of them. All are equally enigmatic and familiar at the same time, until, that is, they proceed to the actual game.
You do not need to understand poker to engage with the unfolding drama. The play is not about the game. The Poker game can be seen as an allegory of life as it is reflected round that table and beyond, with all its contradictions and uncertainties. The obsession with the game is manifested differently with each individual, exposing a son's betrayals and a father's desperation. Human frailty, humanity, affection and a touch of optimism are all displayed during and after the Poker sessions.
Stephen, who likes to be in control, cannot govern his own son, Carl (Samuel Barnett). This angelic looking youth's only success is in accumulating debts and in deceiving. Mugsy (David Mildon), a waiter, is driven by dreams of success with hilarious yet touching naiveté, which helps him to cope with the mocking of his idea to purchase and convert a large public lavatory into a restaurant. Frankie (Jay Simpson), a usually confident male, who never lost a game nor rejected by the fairer sex, loses his calm in a face of the newcomer to the gaming table, Ash (Roger Lloyd Pack), and Sweeny who succumbs to temptation. Ash's presence generates heat and tension that brings the basement close to boiling point, driving out all but Stephen and Ash. Then, the tables are turned with a dénouement that reverberates long after one leaves the theatre.
If you are hesitating about what show to see, make this one your choices.
Philip Fisher reviewed Sam West's production when it first opened at the Menier in October 2007. John Thaxter also reviewed the Trafalgar Studios production.
Reviewer: Rivka Jacobson