Dealing With Clair
Martin Crimp
Orange Tree Theatre, English Touring Theatre
Orange Tree Theatre
–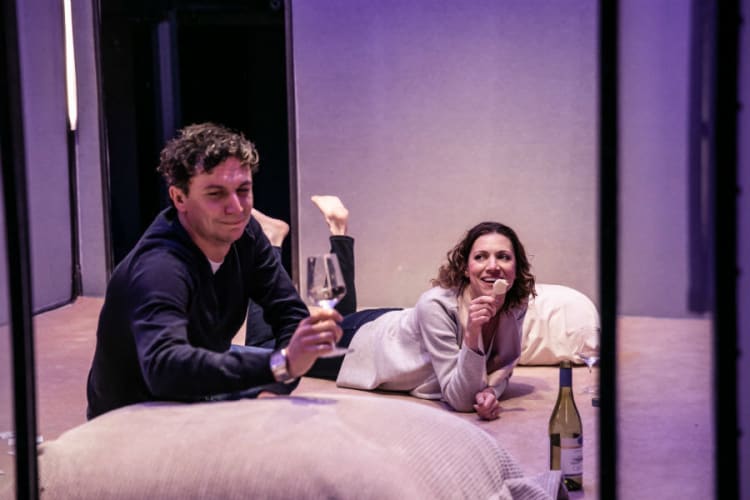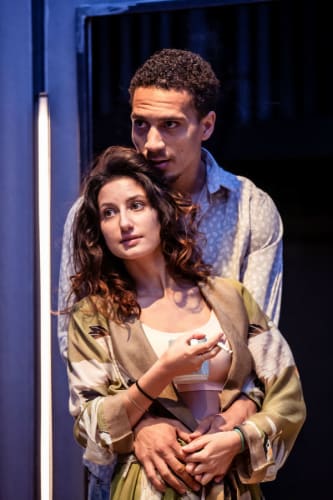 Somewhere back in the "greed is good" Thatcherite decade of the 1980s, homes got redefined as investment opportunities and Martin Crimp satirised its grim consequences in Dealing With Clair.
You might feel the early sections of the play are another of those light social comedies.
A rather comfortable middle-class couple, Liz (Hara Yannas) and Mike (Tom Mothersdale) Walsum, worry about the nanny looking respectably dressed and snobbishly laugh at other people. But this familiar set-up soon turns into something far more chilling.
The Walsums are selling their four-bedroomed house and Clair (Lizzy Watts) is the estate agent's representative.
We first meet her at her own flat, a tiny place she calls her investment where the trains roar past and her mother on the phone worries about the risks she takes showing strangers round houses. That's not a problem, she tells her mum, "besides, it's not forever… Who knows what I'll do? Make a killing and just disappear."
And that is a big bald hint of what might be coming.
Those who buy and sell aren't just reducing homes to an exercise in money grabbing. They are also treating people like objects.
Mike may lightly flirt with Clair and the nanny Anna (Roseanna Frascona) because, as he explains, sexuality is always going on between men and women, though we have no evidence in the play that the women concerned reciprocate in the slightest, but the potential house buyer James (Michael Gould) has his predatory eye on Clair and is soon asking her how she sleeps and whether she is single.
Of course the Walsums, who are superficial and insecure about their status, are always ready to reassure each other of their splendid integrity. They express outrage about the way those renting property nearby are kicked out. They even claim they are different, they will behave "honorably".
Yet they keep the nanny in a room without windows that James thinks is a cupboard and ditch for a better deal the offer they had accepted from the Harraps, a couple in Shropshire. After all, as Mike points out, "legally, it means nothing."
As for that better deal of cash from James, their qualms about his honesty are dismissed with Mike's argument that honesty's "not ultimately what's at issue here. What's at issue is his ability to exchange."
Lizzy Watts gets our sympathy as Clair trying to do her job within the limits set by the predatory characters with the money. Like Anna, she is forever being controlled and defined by others. She is regarded as cold by Liz and a sexual possibility by Mike and James. And if Mike can one evening fantasise about raping Clair, we worry that James is a bigger danger.
We watch the play through the initially slightly off-putting grey gauze walls of a room built on the central performance area, the fine confident cast soon grabbing our attention.
The flimsiness of those walls is demonstrated later because this is a world, as Ashley (Gabriel Akuwadike), a worker sent to do some cosmetic work on the Walsum's house, observes, with a structure that is rotting.
The show might feel like a social comedy that goes disturbingly bad, but some might say that was the 1980s for you.
Reviewer: Keith Mckenna