Dear England
James Graham
National Theatre
National Theatre (Olivier)
–

Listing details and ticket info...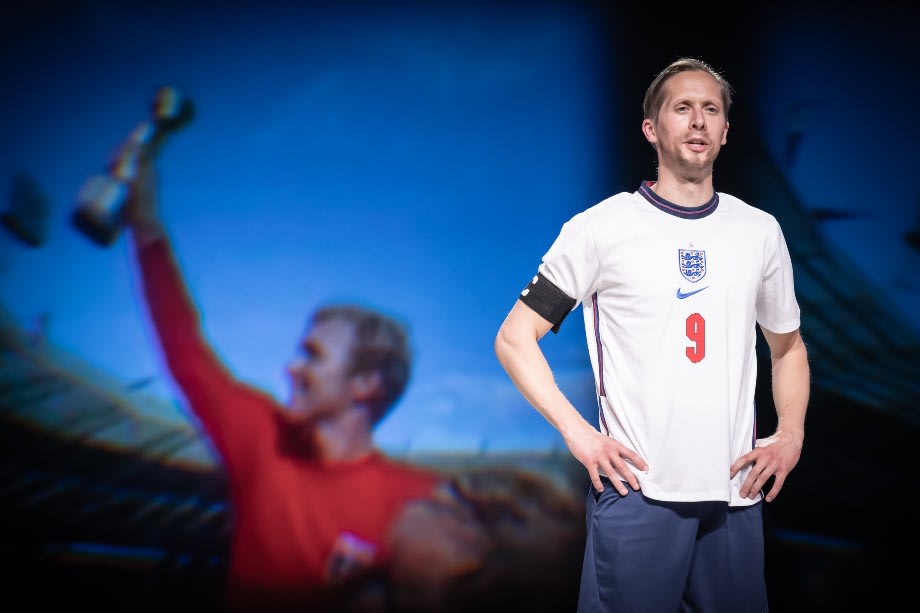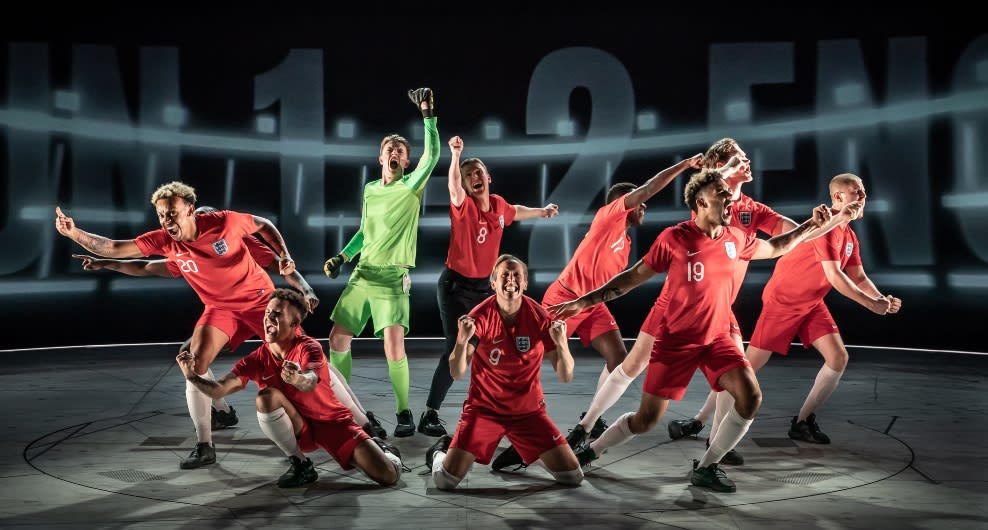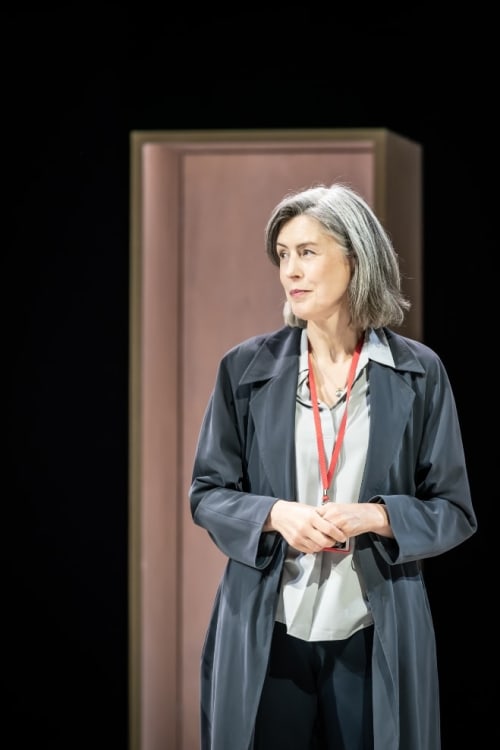 There's little drama but plenty of laughs in Dear England, James Graham's glance at Gareth Southgate's time as manager of the England football team.
Taking on the task, Southgate (Joseph Fiennes) claims there is something wrong with the spirit of the team and he wants to "get them smiling again."
With that in mind, he recruits the psychologist Pippa Grange (Gina McKee) as "Head of People" to help the players understand themselves, which she does through group and one-to-one sessions along with encouraging them to write a journal.
Gareth tells them that what they are doing will encourage them to express their feelings. He compares the journey they will take to a story or a three-act play. Later after some setback, someone asks if "in act two it gets better or worse".
The benefit of the approach is illustrated by a shift in the way they carry out a penalty kick. Gareth points out to the team that in contrast to the good success rate of Germany taking 8.4 seconds to take a penalty, England rushes their penalties in 2.8 seconds with a poor result. This it is suggested is to do with nervousness. They are told, "fear drops your IQ by 15%". Introducing a new ritual that's sensitive to the emotions involved in the task seems to improve things.
The changes in this and other aspects of teamwork seem to pay off. Reflecting this, one of the players says, "love will always win," and from their initial appearance as a bunch of bantering lads, they begin to give each other group hugs.
The second half of the play slips in a few political references. There is mention and objection to the "monkey chants" at the black players from some of those watching a match. We see the "taking of the knee" in solidarity with black people, and the resignation speech in 2020 of Greg Clarke as chair of the Football Association and Vice President of FIFA for making "offensive remarks", though we don't hear what these remarks are or why they merit his apology. A fleeting moment reveals the team's reluctant acceptance of the ban on any protest over the treatment of same-sex relationships by Qatar at the World Cup being held in Qatar.
Unfortunately, the show is so superficial you might feel you are dipping into a very abbreviated Wikipedia entry that has only slight dramatic implications. There is nothing at stake, little characterisation, and if you happen to be a football fan, you are probably already familiar with the narrative.
We keep watching in part because we have a fine, lively cast directed by Rupert Goold whose eye for the spectacle is always sharp. But above all else, it is the light, comic dialogue that grabs our attention.
The comedian Will Close as Harry Kane, the captain of the England team, is particularly funny, getting laughs not only from his expressions but from simply scratching his stomach.
There are also fleeting Spitting Image-style appearances from Theresa May, Boris Johnson saying "hasta la vista baby" and Liz Truss, all three taking a run and a kick at an imagined ball.
The humour is gentle and generally safe, though its stereotypes of foreigners seemed like something from the 1960s. Indeed, when Gary Lineker (Josh Barrow) speaks to someone from Spain, the reply gets a roar of laughter simply from the peculiar, unreal pronunciation of the speaker.
Dear England is a cosy, topical play powered by light humour and a soft, politically liberal yearning to have us all being kind to each other. No balls are kicked in this event, but there is a happy ending in which the cast hug each other, dances and gets the audience to sing along with them the Neil Diamond song "Sweet Caroline".
Reviewer: Keith Mckenna