Death at Dawn
Peter Mortimer
Cloud Nine Theatre Company
Linskill Centre, North Shields
–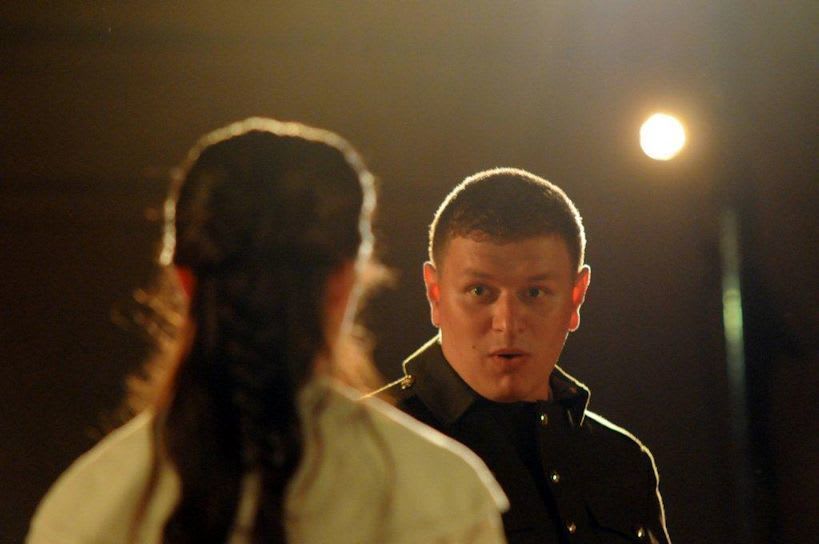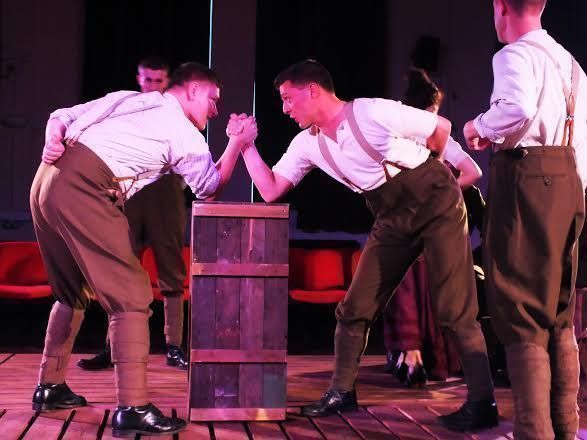 Death at Dawn, a play about the First World War, is based upon the story of Private William Hunter, a young man from North Shields, who was executed by firing squad for desertion in 1916. A former member of the Merchant Navy, he claimed that he had enlisted whilst under age, which was later discovered to be untrue.
Peter Mortimer's play is a mixture of fact and fiction—inevitably, given the fact that there is only limited documentation about his life and even less about his family and his comrades in arms. We follow Hunter's story from his home life amid the patriotic fervour at the beginning of the War, through his time in the Merchant Navy in both Montreal and Liverpool, to the Western Front where his life ended.
Hunter (played by Stephen Gregory) is not a hero but a flawed character, something of a self-centred womaniser who, at the beginning, is nowhere near as committed to Bella, his almost fiancée, as she is to him—a typical teenager, perhaps?—and who is not carried along by the seemingly endemic wartime jingoism which surrounds him.
The bulk of the play focuses on his time at the Western Front and those members of his platoon with whom he has the most contact: warmongering Jack White who verges on the psychopathic (Jim English), empathetic poet Henry Stevens (Jamie Brown), Len Smiley, young and more sensitive than he appears at first sight (Dean Logan), and their almost stereotypical Platoon Sergeant (Matthew Curnier), a regular soldier.
The rest of the cast is made up of Diane Legg as Margaret Hunter (his mother), Heather Carroll who clearly differentiates the characters of the various women in his life (Bella in North Shields, Juliette in Montreal and Claudette in France), and James Gebbie, as defending officer Captain Barrett, and who, along with Alex Broadbent, Will Middlemass and Robert Wilson, plays a a variety of other parts.
Director Jackie Fielding stages Death at Dawn in the round even though the venue has a proscenium arch stage which was exactly the right decision for it gives a feeling of tremendous initmacy, especially in the claustrophic scenes in the trenches.
The set (designed by Simon Henderson) is a simple very low stage made of pallets (which recall the duck-boards which lined the trenches) and each scene is differentiated by moving a number of boxes and ladders into different configurations.
The strength of the play is that the focus is not entirely on Hunter or even only on him and his family; we also see the effects of the war on his fellow platoon members, bringing out the best and worst in them.
It's a strong cast and Fielding's sensitive direction brings out the best in them, aided in no small measure by Nick Rogerson's lighting, Craig Spence's sound design and the accurate costuming of Lou Duffy.
Reviewer: Peter Lathan