Deathtrap
Ira Levin
Salisbury Playhouse
Salisbury Playhouse
–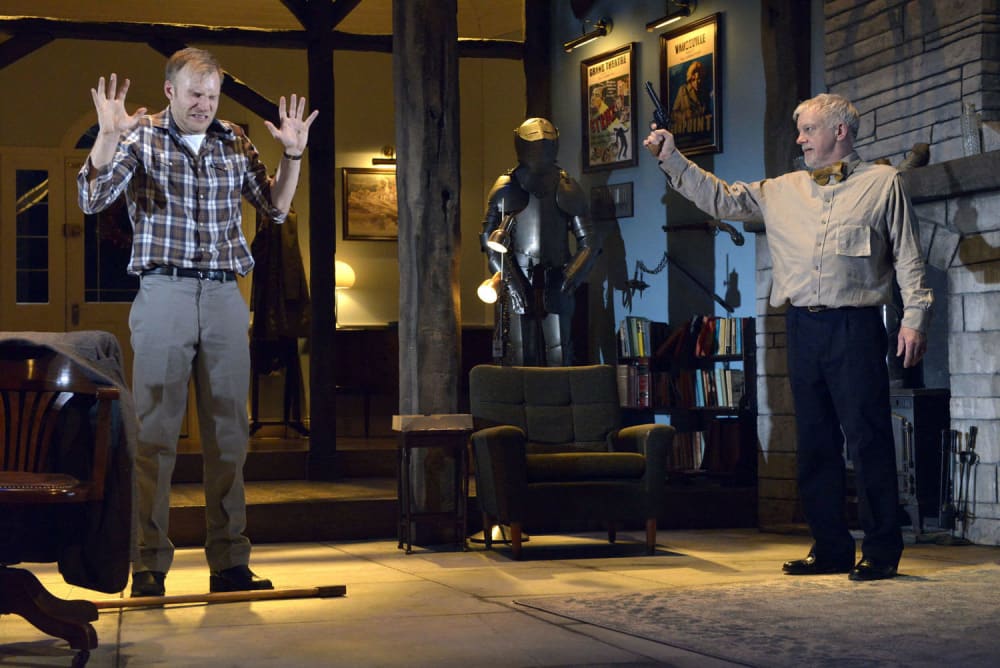 Okay. We've had poets writing about poetry and the work of the poet before—Keats, Browning, Yeats, Billy Collins, they've all done it—so why not a playwright writing a play about what he knows best, writing plays?
Well, Ira Levin did it in 1978 with this comic thriller, involving two rival playwrights vying for supremacy, when it won a Tony award for Best Play. Since its first production, it has been periodically revived, with the film starring Michael Caine a particular high spot.
The story tells of a playwright, Sidney Bruhl, (Kim Wall), who has several successful plays behind him but is now suffering from writer's block. We find him at his spacious home in Westport, Connecticut. Entrances and exits are made from the back, centre stage, and there is an imposing arrangement of shallow steps leading down to the main acting space, while an impressive display of oak beams adds dignity and a certain sinister quality to the scene.
Sidney is studying the work of one of his students, Clifford Anderson (Sam Phillips). It quickly becomes apparent that Clifford has written a script which not only impresses his tutor with its potential for success but awakens in his consciousness previously unsuspected dark possibilities.
The vast and complex arrangement of both modern and medieval weapons, including revolvers, a battleaxe and several swords, that decorate the walls and, later in the action, the appearance of a full suit of armour, only add to the sinister nature of the thing. There's to be some classy stage fighting later on, that's for sure.
Only how to make sure the plot is totally convincing, that's the problem. The answer, apparently, is actually to perform the deed, there being a handy newly dug vegetable patch outside for the convenient disposal of bodies, before committing it to paper.
While Porter Milgrim (Julian Ball), Sidney's lawyer, and Helga ten Dorp, his neighbour, gradually become involved in the plot, we, the audience, are left alternately laughing and yet constantly shocked. Which of these characters is going to come out on top, to escape retribution? After all, there isn't an innocent one among them, except Sidney's sweet—and financially supportive—wife Myra (Lesley Vickerage).
And here I must mention the undoubted star of this production: Beverly Klein, playing the psychic Helga ten Dorp.
Whether she's peering ominously round the stage, warning, "Is danger here, much danger" or "Always when moon is full I am in top form," we are seriously worried. We surely believe her and want her on our side.
So, a play not short on fun and keeping us on the edge of our seats, but isn't it a bit dated? The play actually begins with an old fashioned electric typewriter in the centre of a full screen. Then, later, when Clifford asks Sidney, "You don't have another carbon?" how many of the younger members of the audience know what he's talking about?
I mean, we have CCTV, DNA and all sorts of other clever devices? How does anyone get away with anything nowadays? And yet you've only got to scan the TV pages, full of crime series, Agatha, Sherlock, Morse, Whicher, to see which are the most popular items on television. And what takes up most shelf space in our local library? You've guessed it. Old crime fiction.
I think Deathtrap may have quite a bit of life in it yet.
Reviewer: Anne Hill