Death by Fatal Murder
Peter Gordon
Ian Dickens Productions
Derby Theatre and touring
(2011)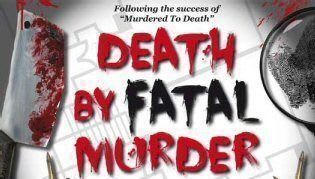 Both professional and amateur theatre companies alike will probably smile at the mere mention of the name Peter Gordon. The York-born playwright has earned a solid reputation for his comedies in which chaos and confusion normally arise out of everyday situations.
Now his standing is increasing at a faster rate than national newspapers are being drawn into the phone-hacking scandal.
That's largely down to his character Inspector Pratt who's the central character of a whodunnit spoof trilogy.
The first play, Murdered to Death, completed a 20-week UK tour earlier this year. The follow-up, Secondary Cause of Death, was recently performed in Louisville, Kentucky and will get an outing in Arkansas in November. The third offering, Death by Fatal Murder, is in the middle of a seven-month tour and will also be revived over the pond later this year. It's a stand-alone play, although there are a couple of references to the first of the trilogy which you might notice.
The action of Death by Fatal Murder takes place in the sitting room of Bagshot House in 1940. The country manor doesn't have happy memories for Pratt who in the two previous plays bungled his way through as the body count kept mounting. Pratt goes searching for a missing policeman but murder is never far away.
Ian Dickens Productions was behind the Murdered to Death tour and the company's artistic director Ian Dickens is at the helm of Death by Fatal Murder. He's wisely retained David Callister as Pratt and Christopher Elderwood as Constable Thompkins who work extremely well together.
Their comic timing is exemplary and their respect for and trust in each other can have unexpected consequences: on the night I saw the play one comic moment apparently didn't go as planned, resulting in both actors corpsing and giving the audience extra laughs.
The success of this version is Death by Fatal Murder is partly down to Peter Gordon's clever script and a company determined to extract the maximum amount of hilarity from it.
Pratt comes over as an inept idiot lacking social skills who has somehow risen to a position of authority. Throw in a liberal helping of malapropisms and you have one of the most memorable comic characters I've ever seen. Callister handles the physical and verbal comedy with equal amounts of dexterity.
Especially unforgettable is the scene in which Pratt takes over interviewing Italian Enzo Garibaldi, assuming that the way to make the foreigner understand him is to raise his voice and make ridiculous hand gestures.
Elderwood shows us a constable whose boss underestimates him. Yet he's far brighter than his superior and more appealing to women, although he gets flustered when a member of the opposite sex makes him a proposition he doesn't expect.
There are also superb performances from Katy Manning as Welsh clairvoyant Blodwyn Morgan who during a séance turns into a Scotsman and former Bagshot House owner Colonel Craddock; and Nicola Weeks as a delightfully over-the-top Ginny Farquar with an annoying yet consistent laugh.
Michelle Hardwick as new owner of the house Nancy Allwright and Richard Gibson as Squadron Leader Roger (Stiffy) Allwright give solid support in their roles.
But I found Ingrid Evans doesn't show the charm and eccentricity the character of Miss Joan Maple requires.
And Leslie Grantham's pastiche of the Italian Garibaldi is unconvincing. You would expect an actor of his experience and high profile to make his mark in what is after all a small role. But when his character reveals he's not foreign, Grantham's alter ego Dirty Den Watts from EastEnders is all too evident.
Overall, though, this is a production with plenty to commend it. In fact you could die laughing.
"Death by Fatal Murder" tours to Swansea, Colchester, Horsham, Lichfield, Chelmsford, Worthing, Billingham, Crewe, Basingstoke and Buxton until 14th January 2012
Reviewer: Steve Orme