Death of a Salesman
Arthur Miller
York Theatre Royal
(2008)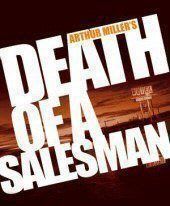 Willy Loman has been going 'off the road' and whilst others may think he's 'lost it', Willy is sticking resolutely to his great American Dream.
York Theatre Royal's production of one of the classics of American Theatre could not be better timed as Barack Obama hails the possibilities of the future for America and yet all around are suffering the effects of the credit crunch. The audience of this three hour show (including interval) cannot fail to recognise the long road to disaster and feel the penny pinching of their own pockets as Arthur Miller's great downfall plays out before them on the stage.
The aging salesman Willy Loman (George Costigan) clings to his hopes for the future through his dreams for his hapless sons, Biff (Joseph Rye) and Happy (Kieran Hill). While his devoted wife Linda (Eileen O'Brien) notes down every sale that he lavishly boasts about, the truth hides in dark disillusion and shattered ideals for everybody. As Willy feverishly converses with his dead brother Ben (Kevin McGowan) his mind begins to disintegrate under the pressure of a long dead job and a hopeless future.
Director Damien Cruden (being himself the son of a salesman) plays out the relationship between the father and son fantastically with Biff and Willy. Rye's superb portrayal of a son fighting his own nature against the dreams of his parents builds throughout the show to an outstanding climax. Similarly O'Brien, as Linda, embodies the selfless mother (despite her difficulties with the New York accent) protecting her husband at all costs. Costigan creates the perfect annoying man in denial, crippled by his own nature. The play is extremely well cast with even some of the smaller roles making memorable impact such as Phillip Langhorne's transformation from the unforgiving boss Howard to the ever eager waiter Stanley.
Cruden creates an impacting opening picture of Willy weighed down by his suitcases under the billboard's advertising slogan 'It's LUCKY if you live in America' and designer Dawn Allsopp's revolving set certainly gives us a striking picture. Chaotic angles heap together to form two precarious structures which provide the set for different locations. The door to Willy's hotel room is cleverly at the top of this structure and brings the two halves together in the play's seismic events when Biff visits his father out on the road. However, the set is at its best when the stage opens up and we see a small man dwarfed by his surroundings.
Cruden's production strikes a cord both with the times on a public and private level. While some may relish the escapism of a trip to the theatre during these economic hard times, this production personalises the credit crunch from the start. One to watch.
Reviewer: Cecily Boys