Death of a Salesman
Arthur Miller
Octagon Theatre, Bolton
(2007)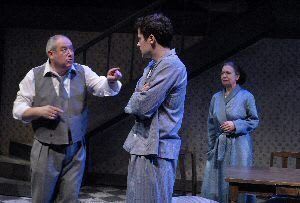 After his superb production of Arthur Miller's A View From The Bridge last January - which presumably only escaped an MEN award nomination due to short memories of the judges - the Octagon's artistic director Mark Babych has now revived another of Miller's most famous plays.
Willy Loman is a lifelong salesman with two grown-up sons approaching the end of his career and his tether - and, as the title gives away, his life. When his sons come back to stay, they find him talking to himself and having flashbacks to the past; old confrontations are revived that show a sharp difference between Willy's expectations for his sons and their own ambitions, and between stories of all their successes and the way things really happened. The play is a fascinating exploration of many things, including family (particularly fathers and sons), the unreliability of human memory and the other side to the "American Dream".
Unfortunately this production is not in the same league as Babych's last Miller production. The Octagon has assembled a large cast of eleven actors that all produce decent performances but the production as a whole seems underdeveloped and under-rehearsed and at times the actors seemed uncertain of their lines. Despite a few strong individual performances, the cast doesn't seem to gel together and they rarely appear to be truly interacting with one another, which dulls the emotional effect of the production and makes it drag along.
In the central role of Willy Loman, David Fleeshman creates some powerful moments, but at other times he comes over as fidgety and uncertain in the part. Joanna Bacon as his wife Linda sustains a consistent, if slightly flat, performance. Jaime Lee produces a particularly impressive performance as 'wayward' son Biff, with good support from Nathan Nolan as his brother Happy. Michael Poole is very striking in his all-white suit and Victorian actor's voice as Uncle Ben.
The two-storey set of the inside of the house is not up to designer Hannah Clark's usual standard; it is basically a naturalistic representation of the inside of the house with the bedrooms upstairs and the living room and kitchen downstairs, but even from a distance the wallpaper pattern looks stamped on and the wood grain painted on. The effect of trees occasionally appearing through the buildings on the upper level is quite nice, but the use of a gauze wall on the lower wall to show silhouettes of people behind it doesn't have much of an effect. The fact that this wall is a gauze is given away early on because the bright red and green lights on the controller for the living room floor - which slides back for the flashback scenes - shine straight through the middle of it whenever it is about to move. There is some nice, atmospheric music used for links and underscoring from composer Ivan Stott.
The cast dealt with one incident, about half an hour before the end, as well as could be expected when a lady on the balcony left noisily complaining about a great play being spoiled by bad acting, but why she thought anyone else would want to hear her opinions rather than the actors or why she took two and a half hours to get that upset about it is anyone's guess. Her behaviour was selfish and inexcusable and her opinions rather unfair and banal, but it is true that this production is not up to the standard expected of the Octagon and its artistic director. One wonders whether Mr Babych has sacrificed some rehearsal time in order to afford such a large cast with almost no doubling of parts. It will no doubt improve as the actors settle into their roles more, but this should really have happened during rehearsals.
Reviewer: David Chadderton