Deathtrap
Ira Levin
Coliseum Theatre, Oldham
–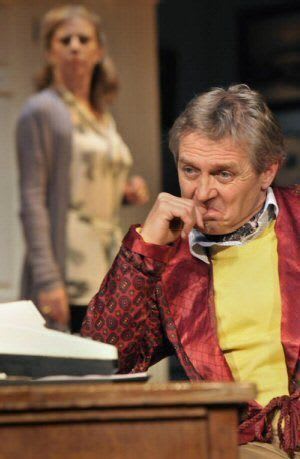 Oldham Coliseum is starting its new season with some shocks, thrills and a circular murder mystery in Ira Levin's classic 1978 thriller Deathtrap.
The plot revolves around a thriller writer, Sidney Bruhl, who has had one major stage success followed by a lot of flops and now teaches playwriting to pay the bills. A student from a previous seminar, Clifford Anderson, sends him a thriller called Deathtrap which he tells his wife (Myra) is a brilliant piece of writing that is sure to make a lot of money, and he conceives a hypothetical plot to murder the writer and steal his play. When he invites the writer to come and collaborate on some rewrites, Myra is afraid of leaving them alone together in case he turns the plot into reality.
All of that happens in the first of the six scenes, but it is difficult to describe any more of the plot without giving something away as the twists come thick and fast throughout the play. Suffice to say, there are thriller plots that become real, real events that become thriller plots, real murders mixed with fake murders and a clairvoyant living next door, Helga ten Dorp, who is able to unravel everything in remarkably-accurate detail.
The look of Kevin Shaw's production designed by Foxton takes us back to the proscenium stage of the velvet curtains and elaborate scenery with titles projected on the curtain between scenes, which works very well with this style of play. Foxton's log cabin set is superbly-striking (although the stonework does look a little plasticy from close-up if I were to be picky). The sudden shocks that occur occasionally are very effective, and the fight scenes (from leading fight director Renny Krupinski) quite frightening, with a particularly gruesome throttling sequence.
Between the shocks, however, the pace is extremely uneven, and some bits do drag quite a bit, which actually makes the shocks more shocking but doesn't help to focus attention on the plot or to make the most of the comedy. The whole thing is really a big theatrical in-joke with twists that get more and more ludicrous, and so if it isn't played at least partly for laughs, then it all seems a bit ridiculous.
Steven Pinder does get across a lot of the comedy with a nervy portrayal of Sidney, opposite Andrew Cullimore as Clifford. Helen Kay is Sidney's neurotic wife, while Roberta Kerr has a great little cameo as Helga and Russell Richardson is Sidney's lawyer Porter Milgrim.
Ideally, a thriller should grip you from beginning to end and have you on the edge of your seat. While the twists in the play are clever and difficult to guess if you haven't seen it before and this production does have some impressive moments, as a whole it isn't thrilling enough or funny enough to wholly succeed.
Running to 1 October 2011
Reviewer: David Chadderton