Deathwatch
Jean Genet
Print Room at the Coronet
–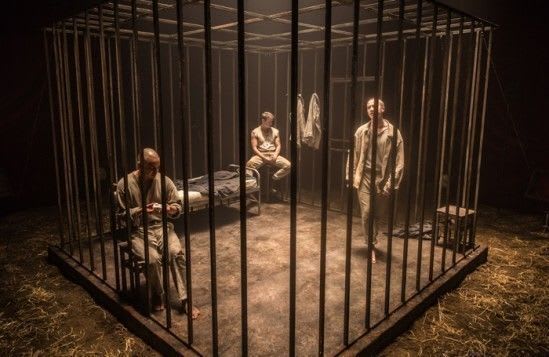 Jean Genet wrote Deathwatch (Haute surveillance), his first theatre piece, in 1949 then, shortly before his death in 1958, he produced a new version. That is the one which here gets its first British staging in a translation by David Rudkin who also made the original's English version for its RSC debut in 1987.
Genet's own imprisonment gives this picture of prison life an aura of authenticity but it isn't a naturalistic portrait of incarceration. The dramatist said "the whole play is to unfold as a dream" described the setting as a rock hewn cell but described the setting as a rock-hewn cell, a granite slab for a bed.
In this production, Geraldine Alexander ignores the stage director but emphasises the dream-like theatricality. Lee Newby's setting is a circus ring, a high-plumed drummer to start the action and on the straw-strewn floor against red drapes and a festooned of electric bulbs a wild animal cage. It doesn't house lions but convicts, a murder and a couple of petty criminals.
Three to a cell and just one bed; what does that symbolise? It is a world of strange rivalries where moral values are turned topsy turvey.
It's a cage with bars through which the man the others call Green-Eyes can squeeze to re-enact memories of his woman and of the murder for which he awaits his final sentence. To start the play, he climbs above it to address the audience and speak of the prison's respected toughman, a big black called Snowball, with whom he has a strong connection.
Green-Eyes can't read or write but the other two respect him; a murderer is higher in the prison hierarchy. In a corner of the cage, thief Jules Lefranc, a minor criminal who would like to be accepted by the big boys, is strangling teenage Maurice 'til Green-Eyes pulls him off him. The violence seems to have erotic overtones and Maurice, who thinks himself the prettiest youngster in the gaol, is besotted with Green-Eyes.
Joseph Quinn gives Maurice a provocative, tarty campness, a boy who puts himself on offer, and not just to get protection. Danny Lee Wynter brings out the scheming side of Lefranc who bears a tattoo that implies a submariner past. He's due for release in the next few days.
Green-Eyes isn't just a toughman, Tom Varey gives glimpses of his insecurities. The girlfriend tattooed on his chest may be his woman but in a dream he find he's changed sex and there's swallow on his neck that seems to hint at the freedom he has lost.
There are fine performances from all three as they play out their rivalries, theatrically real although not naturalistic. Genet puts these men on show rather than telling a story and this production is like watching animals pacing around their cage. There masculinity is strangely cowed by the presence of their jailor, played androgynously by Emma Naomi, who also appears as Green-Eyes's women.
There is little sense here of the way that Genet has often glamourised the murderer and hardened criminal but it is a concentred 75 minutes that never loses the attention. The play's final comment suggest that we've been watching through the Judas hole in a cell door and that sense of secretly this production does become a kind of prurient eavesdropping.
Reviewer: Howard Loxton