Debbie Reynolds - Alive And Fabulous

Apollo Theatre, Shaftesbury Avenue
(2010)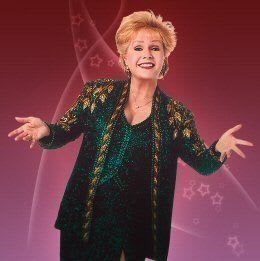 Reviews should be impartial but at times gushing is necessary: this is one of those times. Hollywood legend Debbie Reynolds, star of films such as 'Singing in the Rain' and 'The Unsinkable Molly Brown', visits London for the first time in over 30 years - for only 12 performances - and it is a must-see.
To a backdrop of twinkling stars, we welcomed Ms Reynolds, looking divine in a sparkling gold number that she joked was one of Elton's, which set the tone for an evening filled with self-deprecating wit and effortless charm (younger audience members were reminded that she is Princess Leia's mum).
Though billed as a one-woman show, the stage is blessed with two musicians who are masters of their trade: that Gerry Genuario (drums, percussion) and Joey Singer (piano, bass, occasional vocals) have worked with Debbie for 40 and 25 years respectively is surely testament to her sheer likeableness.
The opening number, a précis of a career spanning over 60 years, is followed by two hours of story-telling with song, film and personal anecdotes as Mary-Frances from Texas is transformed by MGM.
Friends from The Golden Era are lovingly recalled (Cary Grant, Clark Gable, Gary Cooper, Frank Sinatra .) as are songs such as 'I want to be happy', 'From this moment on', 'That's Life' and a 1940-s montage (Debbie's favourite musical era) with 'The Sunny Side of the Street' and Glen Miller's 'Chattanooga Choo Choo'.
Debbie told us that every day is a surprise and what really surprised me were her impressions of Jimmy Stewart, Marlene Dietrich, Mae West, and a frighteningly accurate Barbra Streisand.
After a 20 minute interval, part two begins with a personal collection of rare out-takes with movie stars laughing at themselves falling off horses, Bette Davis cracking up over her colleague's fluffed lines, and Ronald Reagan being tormented by a recalcitrant trouser zip.
Two moments were incredibly touching: Debbie's evocation of stopping over at her best friend Judy Garland's house for girly chats; and the lullaby sound of Debbie's bit hit, 'Tammy's in Love' to end the evening.
On leaving, it had indeed been raining and yet I felt happy and the street seemed sunnier. They simply don't make them like Debbie any more: the Hollywood she represents is fast fading, like the hand-written letters that no one writes. This show is a love-letter to talent, glamour, and the joy of life: catch it while you can.
Running to 9 May
Reviewer: Anita-Marguerite Butler