Debris
Dennis Kelley
Open Works in association with Look Left Look Right
Southwark Playhouse
–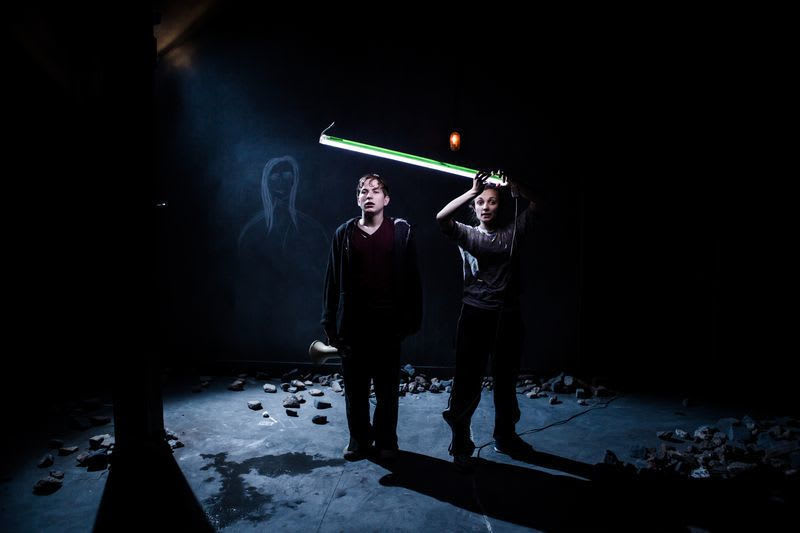 Debris is the name that young Michael gives to the abandoned baby he rescues from a pile of rubbish, a baby that sucks on his blood at his breast.
Debris also seems to describe the world in which his sister Michelle and he lives. Signe Beckman's setting suggests that world with cold, grey walls, a pile of bricks and rubble, a rusting metal pillar and a non-functioning lift shaft.
In this desolation, Michelle is drawing a chalk portrait on the wall, her brother throwing bricks on to the centre of the pile.
Alternating monologues, sometimes coming together, look back on their young lives in a sometimes confusing stream of consciousness memories.
Michael begins by describing what happened at home on his sixteenth birthday: his dad's automated self-crucifixion, the cross crashing up through the ceiling, the nails mechanically projected by a device that he operates with his teeth. "My son, my son," exclaims his pain-wracked father, "why hast thou forsaken me!"
Michelle goes back to her birth, still in the womb, the joy of her parents at her imminent birth interrupted by her mother beginning to choke on a chunk of chicken. Her father beginning to apply the Heimlich manoeuvre is stopped by his wife for fear it will damage the baby and her father has to choose between his wife's life or hers.
Dark and dysfunctional their lives may have been, but these are young people of spirit and Dennis Kelly's script pulses with a poetic urgency. As directed by Abigail Graham, this production, which marks the tenth-anniversary of Debris's original staging, has a passionate intensity that holds its audience spellbound for its 70 minutes.
It is superbly performed by Leila Mimmack and Harry McEntire, plaing with conviction and a total belief in its surreal happenings. McEntire especially is mesmerising.
Reviewer: Howard Loxton