Decade
Amy Rosenthal, Beth Steel, Nimer Rashed, David Eldridge, Lou Ramsden, Fraser Grace, April de Angelis, Richard Marsh, Phil Porter and Rex Obano
Theatre503
(2010)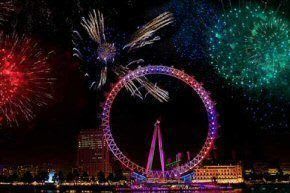 Much has changed in the world since our current millennium dawned in 2000. Theatre503 presents ten short plays by ten different playwrights, each encompassing a year of the so-called noughties and encourages the audience to reflect over the past decade whilst taking in a great evening of theatre.
Each playlet has its unique individual style and we start with a New Year's Eve fancy dress party, complete with Millennium Bug, Millennium Falcon and Millennium Dome costumes and finish with a BNP meeting in the wake of Nick Griffin's Question Time appearance in 2009, where Betty Benjamin plays a wonderfully comic BNP granny without going down the Catherine Tate Nan route.
David Eldridge's play for 2003 is the strongest piece of the evening. This year's big event was the invasion of Iraq and Eldridge depicts the difficult task of informing a family that their eighteen year old son has died in the conflict. The parents get caught up in a whirlwind of emotions as they realistically and movingly battle with shock, denial, grief and anger. This is made even more dramatic as an army officer stands stationary and emotionless stage left watching the parents come to terms with their news.
Not all years are so seriously depicted though. Lighter moments surprisingly come from a comic send up of our friends in the States, such as the moment Bush was informed about the attacks on the World Trade Centre, and fun is also poked at US army troops in Guantanamo Bay who long to know what happens in the latest Harry Potter book.
Aside from war and conflict, scientific breakthroughs, natural disasters and technology are also tackled, with a beast in the basement and a half dressed retinal eye surgeon allowing the audience to indulge in something a little more surreal.
A large team of actors makes up the cast. They also assist in moving the scenery, consisting of four black boxes used as various objects throughout the course of the ten plays. Some of the scene changes were not as smooth as they could have been and many of the props appeared superfluous, cluttering the clean, neat and minimal set.
Music from the relative year is interwoven with news soundbites to underscore each transition, but upon ending each piece the cast proceed to move the blocks for the next play in a temporary blackout before continuing with the scene change fully exposed in light, which is then followed by another blackout as they finally finish positioning the blocks and exit. This appears messy and creates some confusion as to when each section is actually over and when any clapping should commence. Movement only during blackouts or between blackouts would help to establish the boundaries between year and actor/stagehand.
Rex Obano's 2009 concludes the evening with BNP councillor Nigel asking for a "Big hand for Nick Griffin", which leaves a weary audience nervously contemplating whether to clap in support, having assumed the role of Nigel's audience in the mock BNP meeting, or to abandon this frame and praise the performers. A hesitant pause was followed by enthusiastic applause for the actors and soon cast members from each of the ten plays joined the stage for a well deserved, but shabbily rehearsed company bow.
None of the ten plays are overtly positive or celebrate their year and it is worth recalling that, although the naughties were dark in many senses, they also brought much joy. Where were these recollections? Looking back on the past through Decade makes for some depressive viewing as nothing good ever seems to have occurred. In response to the programme's question of "Is this what it felt like?", an answer of "Not really" is needed. If it was, perhaps the end of the World courtesy of the Millennium Bug would have been a better option after all?
Playing until 23rd January 2010
Reviewer: Simon Sladen