Deceptions
Paul Wheeler
Ian Fricker production.
Yvonne Arnaud Theatre, Guilford, and touring
(2009)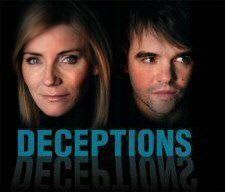 Although he is already a very experienced writer with some impressive television and feature films to his credit, this is Wheeler's first play for the stage and he has packed a lot into it. Intrigue, drama, comedy, suspense and a love story are intertwined in a manner which keeps the audience involved and fascinated right to the end.
Expecting something on the lines of a psychological thriller, it begins calmly enough. In designer Simon Scullion's set psychiatrist Julia Smythe's consulting room is present-day fashionably minimalist, but gives the impression of a warehouse in need of conversion with its high walls of exposed brickwork including bricked up windows, the only relief being a softly lit atrium, and the only furniture table, chair and couch. Julia is dressed as befits a professional career woman approaching middle age - smart, trendy trouser suit and high heels, and is ready with her questions.
Hardly a cosy intimate atmosphere to encourage divulging inner turmoil, but strangely Adrian Wainwright (Rupert Hill), the young man on the couch, has no problem and seems a happy, cheerfully cheeky soul full of humour, and eager to tell all, while Michelle Collins's Julia, described as "sitting there calm and inscrutable" constantly twitches, gesticulates, seems nervous and ill at ease and more aware of the audience than of her patient - sorry, client - and in need of treatment herself.
As the play progresses and secrets are dragged out into the open that is how it would appear. Not quite so simple though - the main theme is revenge, and the very surprising dénouement supplies that very satisfactorily and not where you would expect.
As the consultation continues, the intrigue increases. Why does Wainwright seem intent on upsetting his interrogator, undermining her authority and eroding her confidence while belittling her profession? At his suggestion they experiment with changing roles and his more pertinent probing produces some strangely panic-stricken reactions. Perhaps it is a psychological thriller after all with suggestions of intrigue and malice. "I am going to kill you" is heard. There is an attempted suicide, and the thought is planted that Julia is being stalked.
Dialogue (and there is great deal) is slick, witty, funny and, in Joe Harmston's production, very fast-paced, with a cat and mouse game changing sides as each attempts to score over the other, and it is here that Collins comes into her own, moving from anger to acquiescence, remembrance of tragedy, a lost love in her past life and shame at the secret life she is leading now, and expressing each mood well.
In a very confident and sympathetic performance Hill moves easily from perky, assertive young man to one with many problems, spinning story after story to gain sympathy and redemption, and the play concludes with the two protagonists gazing into the future and anticipating the satisfaction of the revenge they will have on the one who has ruined both their lives.
Reviewer: Sheila Connor