The Deep Blue Sea
Terence Rattigan
A Theatre Royal Bath Production
Yvonne Arnaud Theatre, Guildford, and touring
(2008)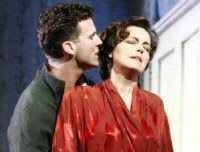 Rattigan was homosexual at a time when this was a criminal offence and could lead to prosecution or blackmail, so although the first drafts of the play were based on his own experiences and feelings, when it finally reached the London stage in 1952 the central male character had become a woman - but all-consuming hopeless passionate love can be just as painful for either sex, and possessive love can so easily alienate the object of its affections.
Although perhaps not so well known as his previous very successful plays, The Winslow Boy and The Browning Version, this is often regarded as his finest writing and he pours into it all the frustrated passions, longings and guilt of a man who has been through it all. Rattigan, feeling smothered by a too possessive lover, left him for a youthful Ken Morgan who, in his turn, left to branch out on his own, finally committing suicide in despair over the failure of his latest relationship.
"The play will open with the body discovered dead in front of the gas fire," directed the author, with his ex-lover's death uppermost in his mind and a desperate need to write about it – and so it does, although in this production the body is not immediately obvious.
In a run-down boarding house in a "low neighbourhood" in post-war London a tenant can smell an escape of gas and anxiously follows the source into a room where the signs of poverty are obvious – bare floor-boards (today trendy, but then a sign that carpets were a luxury), the minimum of furniture, and 'kitchen' in a curtained alcove. The back wall is semi-transparent, allowing us a view of stairs both up and down, and the doors of similar rooms occupied by other tenants. Francis O'Connor's set is magnificent in its construction and attention to detail, bringing the style and mood of the period and the situation into sharp focus immediately.
The body in front of the gas fire is Hester, but did she really mean to kill herself? For lack of a shilling to feed the meter (prominent on the wall) the gas had run out. A clergyman's daughter, she had left her husband and affluent lifestyle to follow her heart and is distraught that her new love is incapable of returning her love in equal measure. As a final straw he had forgotten her birthday and, when he discovers the suicide attempt, he regards this as the sole reason and is self-righteously indignant that such a triviality could cause this reaction.
The characters are well drawn and well performed, although I found Greta Scacchi's self-obsessed Hester sometimes verging on the melodramatic. The former test pilot Fred, who is the object of her passion, is equally self-absorbed, but not quite the cad he seems at the beginning, and the erratic behaviour of a man still affected by the traumas of the recent war are well portrayed by Dugald Bruce-Lockhart. Simon Williams is stiffly correct as the deserted husband and Jacqueline Tong brings a down-to-earth touch as the housekeeper who is not above passing on a few secrets.
Perhaps the most interesting of the assorted tenants is the 'doctor' with a past, played with a matter-of-fact dry humour by Tim McMullen, and he gives the best advice "The only purpose in life is to live it" – which I would translate as "Pull yourself together girl and get on with it", and there are hints that she will do just that, beginning an independence which was not quite so common for women at that time.
Expertly and meticulously directed by Edward Hall, with his own attention to detail equalling that of his famous father, this is a passionate tale of human emotions, something which will never go out of fashion.
Pete Wood reviewed this production at Cheltenham. Philip Fisher reviewed its West End transferto the Vaudeville.
Reviewer: Sheila Connor