Deep Cut
Philip Ralph
A Sherman Cymru production
Tricycle Theatre, Kilburn
(2009)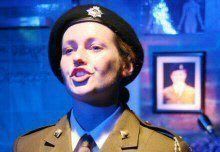 News reports come thick and fast about the plight of our armed forces. The tragic death of a soldier, life cut short by a desert roadside bomb. Another, murdered by paramilitaries far closer to home. Horrific as these reports are, we can, from the collective comfort of our homes, lose sight of the human reality behind these radio and TV soundbites. They are soldiers, after all. Women and men paid (a sorry pittance) to place their lives on the line. Killed on active service. Horrific. Now on to the next news report of pampered football celebrity or car manufacturing gloom.
We are, of course, lucky. Lucky not to be one of the handful of citizens for whom this same moment of media interest encapsulates a life experience, an awful truth of loss and pain and realization that a loved-one will never, ever return. The photograph of a smiling uniformed recruit, proudly proclaiming their hope and aspiration, is testimony of a terrible price paid, not least by those left behind. None of us want to be a part of this family of grief. None of us dare imagine waking each day to such loss.
What, then, can it be like experience that loss, firm in the knowledge that it was not sustained on active duty, not suffered from exposure to the vagaries of war? What if, when we see our loved-one's smiling photograph -- our daughter's or our son's, our brother's or our sister's -- we know they died whilst in the security of some Home Counties military training establishment? What if, as we soon realise, we are not alone in our bitter grief, but tragic partners with other families who bear the life sentence of similar loss, in similar circumstances, from the exact same place?
Deep Cut, the Sherman Cymru production which has arrived at London's Tricycle Theatre by way of the Edinburgh Festival, forces us to confront these issues. It does so in a devastatingly simple and effective way. Written with an easy, everyday style by Philip Ralph, Deep Cut is so much more than docudrama. Deep Cut engages with its audience by inviting us to consider the evidence, to listen to the stories behind the ten-second newsflash, to come to our own conclusions.
Ralph has created a dramatic experience (it seems too passive to describe it simply as 'a play') which seems as close to forensic theatre -- extra-courtroom drama -- as is possible to achieve. Deep Cut is the public airing of a grievance which has systematically been denied to a grieving few. That very denial has ensured that Deep Cut can, by its very nature, be only one side of the story, a side which is, however, so seldom if ever heard.
An ensemble of six actors portray father, mother, colleague, QC, journalist, army officer and technical advisor, each presenting their personal insights, their memories, or their evidence and conjecture within a narrative which never falters in its pace. Directed by Mick Gordon, these actors make full use of the claustrophobic living-room set designed by Igor Vasiljev. We are in a real home, overhung by a symbolic attic full of boxes and papers, the residue of a lost young life. When this attic gorges out its contents, the physical detritus of the past adds to the disorder of the frantic search for reality in the present.
Ciaran McIntyre and Rhian Morgan play Des and Doreen James, the real-life parents of Cheryl James, whose beaming uniformed face shines like a beacon from poster and programme. Cheryl died in mysterious circumstances at Deepcut barracks in Surrey. Her death, like that of three other young soldiers from Deepcut, having never been scrutinized through public enquiry. McIntyre and Morgan do not act Des and Doreen, they become Des and Doreen.
Likewise, Rhian Blythe is an exuberant and convincing Jonesy, the Welsh recruit who befriended Cheryl and offered evidence about the morning she died. Like the other actors, Blythe takes on her character's persona so that we, as audience, feel sure we are listening to testimony from the young woman portrayed. Robert Bowman, as the journalist Brian Cathcart, Simon Molloy as Nicholas Blake QC, and Robert Blythe as the enigmatic ballistics expert Frank Swann, complete the cast. All performances take naturalism and reality to a new dimension.
The sense of reality is heightened on this specific opening night by the presence in the audience of the real families whose loss is portrayed onstage. In the Tricycle bar, media-savvy MPs and actors rub shoulders with fathers and mothers, for whom the presentation to the audience of a photograph of yet another lost young soldier has a personal, painful meaning. It is their children who have died; this is their story. In effect, this is their attempt to keep their grief newsworthy, to counter the oft-repeated phrase of the journalist that he and his colleagues "dropped the ball."
With quiet dignity, the father of one of the Deepcut victims privately talks of his son, seventeen-year-old Private Geoff Gray, and what the play means to him. Mr Gray, also Geoff, describes the moment the Deepcut families came together and saw their grief and anger portrayed onstage. His realisation, that they all shared the same response, the same anguish and regret and pain, was, in itself, a revelation. An awful revelation but one which highlights the artistic integrity of the project and the almost-cathartic experience of watching it.
This is a play about which critical comment seems futile. This is a play which deserves to be seen, and which will be seen by many who can be moved and shocked by its narrative. You cannot leave the theatre without some emotional response to the content and the performances. Fitting testament to lost young lives indeed, if the ghost of this play can haunt you as it does me.
Until 4th April
Philip Fisher reviewed this production at the Traverse, Edinburgh, during the 2008 Edinbugh Fringe and it was also reviewed in Cardiff by Allison Vale. Allison Vale revisited it (with a slightly changed cast) in 2099 at the Ustinov, Bath.
Reviewer: Kevin Quarmby