DeLorean
John Ivay
Freedom Picture Company
Assembly Rooms
–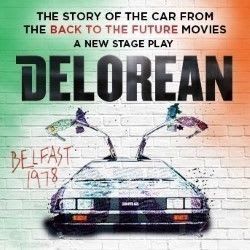 The first words we hear from John DeLorean (Cory Peterson) in John Ivay's play are quite startling.
Addressing the board of General Motors (GM), he tells them that it has come to his attention that GM has been failing to recruit black workers so for the next few years it is to recruit only black workers.
That would have upset a number of those who ran GM, but it was typical of a man who had an eye for the way things appear.
The play is a fascinating, often amusing dramatisation of his business dealings from the time he left GM through the setting up of his own car plant in Northern Ireland to the point where in 1982 he was arrested for trafficking cocaine.
He is shown sometimes inspiring others but also seeming to behave in a slightly whimsical way that constantly frustrates those he is working with.
We also see him connected to corruption that disappears millions, much of it public money, evading taxes, and duping governments.
This well performed show entertainingly pitches him as a slightly amiable conman who was mainly interested in enriching himself.
However, for a brief period, the car plant he owned gave hope to thousands of workers in Northern Ireland that there was a chance of employment in a devastated area even if it was building sports cars they would never be able to own.
Reviewer: Keith Mckenna